On Monday, People magazine ran a story about Jessica Simpson's baby show, and while that's great news for Jess (great, congrats, blah blah blah) I only cared about one picture from the party: a shot of guest Jessica Alba in a teal leopard print coat. Wowza! The bold print isn't for everyone – it's a little Peg Bundy meets The Flinstones – but I love it. Here's her exact jacket if you feel the same way:
Kenzo full-length jacket ($1,618)
Turns out, Jessica is not the first (or last, probably) celeb to rock the print, which is from the Paris-based brand's spring 2013 collection and is available for pre-order on most sites. Rita Ora was spotted in the same jacket, plus pants, while attending a BBC breakfast back in February.
Kenzo Leopard print trouser ($589.97)
Brandy Norwood wore the cardigan and matching shorts to a Wendy Williams appearance last month to promote her new album Two Eleven.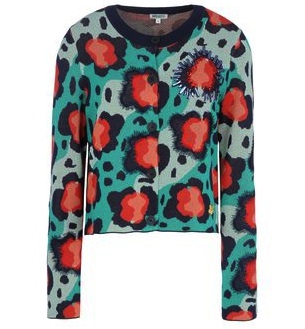 Kenzo cardigan ($738)
And don't forget that the highly-anticipated Kenzo x Vans spring collection included a pair of Vans lace-ups in the same print: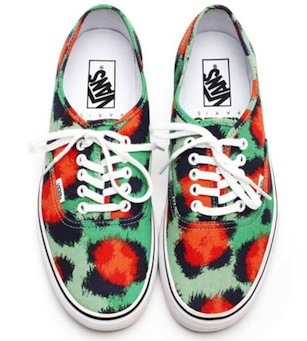 Kenzo x Vans Spring 2013 Collection
For more celebrity style, check out Olivia Wilde's $89 jeans, Julianne Hough's entire outfit and Kristin Cavallari's maxi dress.
[Photo: Splash News]