Some of Hollywood's chicest starlets are moving into spring by ditching their skirts in favor of shorts with tights.  Katie, Nicole and Kate prove that this trend is versatile and works no matter what your style mantra is.
These classic jean shorts by J. Crew ($79.50) are instantly dressed up with a pair of opaque, silky tights by Wolford ($52) that will literally last forever.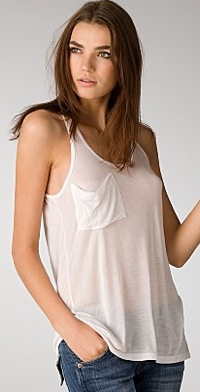 Get a plain white tank, like this one by Kain ($80), that you can wear under each of these three looks.
On warm days, take a cue from Katie and simply throw on a printed cotton scarf like this one by Guess ($61.44).  Go retro in this vest by  Bindya ($42.90) that embodies Nicole's hippie chic style.  If you're feeling a little more conservative, try this tweed jacket from K Karl Lagerfeld ($420) that's a staple of Kate's wardrobe.
Check out all the latest celebrity fashion, including celebrity denim and handbags.  Find out about all the best online sales with our list of this week's online sample sales.