The weather outside is frigid, so stop kidding yourself: that old peacoat isn't doing you any good. You've gotta put your cold weather arsenal together, people. On the way to work today, I saw too many people shivering in their boots, so I'm going to make it easy for you with these 5 awesome sales: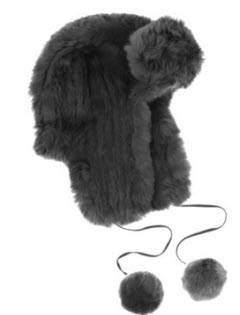 If you buy nothing else, do yourself a favor at least with a great hat that doubles as a pair of earmuffs, like this rabbit fur trapper hat by Lutz & Patmos ($194, from $555).
Hunter is known for its amazing rain boots–but these Hunter shearling lined boots with a serious tread are super warm and easy to manuever through snow in. Get yours for $276, from $395.
You've gotta layer UNDER your coat–this Ami Dan La Rue funnel neck sweater does the trick–button it up and consider it the wind equivalent of a bullet-proof vest. ($97.50, from $325)
These cable knit cashmere scarves are luscious and super warm–get a few to layer ($94, from $135).
5. 65% off at Saks + Free Shipping
Cole Haan doesn't mess around when it comes to winter–this overstuffed puffy coat is flattering and ridiculously warm. ($196.99, from $395, plus free shipping with code JANSFA)
More sales and deals:
Follow the author of this post on Twitter @shefindseileen.