By now, we all know that fashion bloggers are literally crazy for Valentino Rocktud Pumps ($995). So many of them have a pair including, Always Judging, Cupcakes & Cashmere, and Gal Meets Glam, just to name a few, that it's almost as if Valentino himself gifted them to these girls. How else would they be able to afford MULTIPLE pairs? Maybe beacause some of them make millions, but that's besides the point.
It's pretty obvious that Valentino Rockstud's have become the go-to shoe for fashion bloggers, so it was only a matter of time before someone of significance made fun them. While we were doing what we do best (aka. online shopping), we found Tobi's rockstud knock-offs and we were LOL-ing at the name.
Their Blogger Studded Heels ($58), yes, that is the real name, are exactly the same as the Valentinos (besides the fake leather), which really makes us question which ones the fashion bloggers are actually wearing in their street-style pics. Maybe they're wearing knock-offs and we have no idea! That would be a serious game changer.
Now that we know that we can get the same shoes for less than 94% of the price of the real ones, we're a little less envious of our blogger friends, but only a little. If you want to look like a blogger, but you don't have a blogger budget, head over to Tobi.com now! They're only $58, and they'll be 50% off if this is your first Tobi purchase, so you don't even have to feel guilty.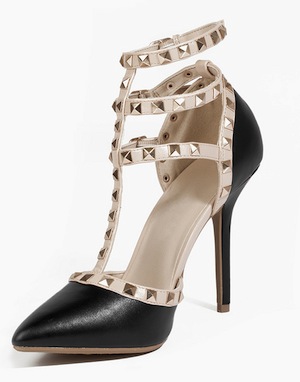 Blogger Studded Heels ($58)
Shop for more shoes, here: statement sandals, heeled sandals, and Nordstrom's summer sale.