Tom Ford Doesn't Want You To Pop Molly, He Wants You To Rock His New Tees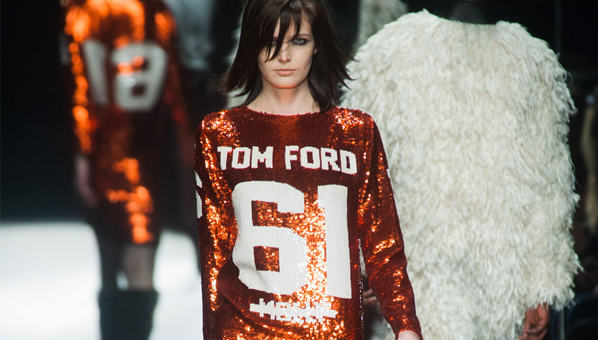 It's common knowledge that Jay Z is a fashionisto (have you seen him rock a red carpet with Bey? Not too mention his fancy-pants Barneys line), but it may come as a bit of a surprise to learn that some designers are BIG rap fans in return. After Jay Z released a track called "Tom Ford" on his latest album, the American fashion designer paid homage to the rapper with a new jersey top from his eponymous line–which debuted at London Fashion Week yesterday (above).
Let me explain, in case you don't get the reference: On Jay Z's track he sings, "I don't pop molly, I rock Tom Ford," (also a reference to MDMA-based drug Molly, of which Kanye and Miley Cyrus are fans). So Tom took a "Tom Ford" jersey and crossed out "Molly." You see what he did their? Hugs fashion not drugs, people!
UPDATE: Beyonce just posted a photo on her Instagram rocking yet another fresh new Tom Ford design paying homage to her man's music: this time, it's a satin bomber jacket supporting team "Picasso" (number 73) with Molly crossed out. This references Jay Z's other track from Magna Carta called "Picasso Baby" (we're assuming):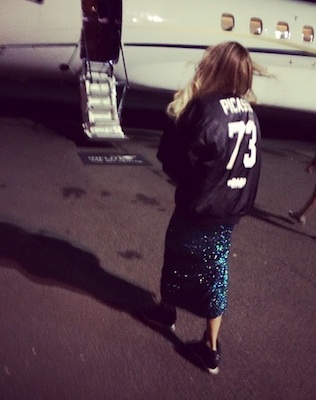 Photo: Beyonce Instagram
Photo: Beyonce Instagram
And the song, for reference:
[Photo: IMAXtree]