The key to buying gifts on a tight budget is to pick things that look really special (and then wrap them really nicely). All of these five picks for your budget are under $30, but they don't look it. Some of them are so enticingly priced, you can even afford to buy an extra– for yourself, of course.
Know a girl who never leaves home without an arsenal of beauty products? Gift her with this sparkly Sonia Kashuk cosmetic bag ($12.99), so she's always packing in style.
After spending half an hour blow drying your hair, no one really wants to wear a hat. But this jeweled beret ($28) is so precious, she'll never want to take it off.
Your brand label obsessed friend (we won't name names) will flip for these brightly colored Kate Spade vases ($25) to dress up her digs.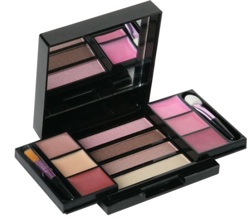 What beauty junkie wouldn't want six lip glosses and four eyeshadows all in a makeup palette ($18.50) that actually fits in your pocket?
Charm bracelets ($4) are having moment. This one from Charlotte Russe is so affordably priced, you can give your favorite trendsetter a few of them to layer.
If you've got more people to check off your list, see our picks for the best gifts for foodies, workaholics and people who have everything.