As we begin our countdown to 2010, this year we were incredibly lucky to see some amazing (and affordable) designer-retailer collaborations. We're anxiously anticipating the new partnerships that will blossom in 2010 (namely, Eugenia Kim for Target and Jodi Arnold for The Limited), but here's a look back at a few of our faves from '09 in the meantime.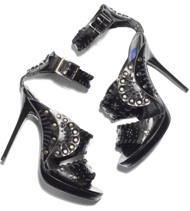 Jimmy Choo for H&M: We loved that the shoes and bags in the Jimmy Choo for H&M collection looked so much like the real thing. The trendy, edgy party shoes, handbags, and belts were also a welcome addition to the Choo we're used to seeing.
Rachel Roy for Macy's: This was definitely one of our favorite collaborations because we initially had our doubts, but the collection turned out to be unbelievably diverse and stylish. From dresses and tops to shoes and jewelry, there's so much we're still coveting from Rachel Rachel Roy. Bonus: these items are still available to purchase at Macys.com.
Jil Sander for Uniqlo: Jil Sander brought us back to basics with her +J line for Uniqlo. Structured tops and pants ruled the first collection, while the second time around, due this spring, she's incorporated some color.
Christian Siriano for Payless: Fierce. That's really the only way to describe Christian Siriano's shoes for Payless.
Sonia Rykiel for H&M: It's really impossible not to smile when you see Sonia Rykiel's cheeky lingerie collection for H&M. What women wouldn't feel flirty and sexy in these alluringly feminine bras and underwear? For more, see our guides to the best bras and cheap shapewear.
Rodarte for Target: This most recent Target collaboration is on sale now, but selling out quickly. The two cute dresses that are still available above, though, so get yours before they're gone for good (unless you want to bid for others on Ebay).
Matthew Williamson for H&M: The summer of 2009 was a little brighter thanks to Matthew Williamson's psychedelic collection of swimwear and summer dresses for H&M. His signature eye-popping prints in this capsule collection did not disappoint.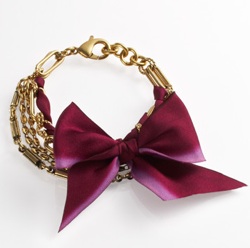 Lisa for LOFT: Lulu Frost designer Lisa Salzer partnered with Ann Taylor LOFT on some gorgeous limited edition jewelry, like the ribbon bracelet above that's been worn by Taylor Swift and Emmanuelle Chriqui.
Vena Cava for Gap: Gap khakis are classic, but we couldn't help but swoon for Vena Cava's graphic dresses; a cool takes on the otherwise ordinary fabric.
Looking for more designer must-haves? Check out out guides to designer handbags and designer jeans.