Chain-strap purses are the way to go if you're in the market for a new bag. You can choose from every style imaginable, from the perfect little clutch to a spacious tote for everyday use. Here are a few of our favorites, each of which is practically made to suit a particular personality.
The Modernist: Leho by Aldo ($45)

Simple, minimalist, and streamlined. This black, east-west bag with gilded grommets and long chain strap are the perfect accompaniment to your monochrome look.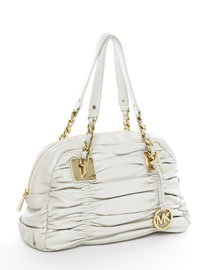 The Classicist: Michael Kors Webster Large Satchel ($419)

Of course, dahling, you already own a Chanel Chainstrap Purse, so you have to diversify with one that's just as chic, but a tad bit roomier. Perfect.
The Prepster: Kate Spade 'Watch Hill' Shopper ($395)

It's perky, pretty, and patent, but also practical for toting all of your daily needs.
The Girly Girl: Lulu Townsend Satin Ruffle Clutch ($27)

Oh my gosh, oh my gosh. Don't you just love the layered frills and the rhinestone clasp? Admit it. You totally do.
The Optimist: Santi D4004 Clutch ($343)

This lively clutch, handmade in India, is ethnic looking and cheerful, yet still urban enough you can wear it to an evening or daytime event. The chain tucks away or clips on depending on your needs.
Love these bags? Check out our guide to the best cross-body bags, fall purses, and the cheapest chicest handbags around.