Okay, we know everyone is sick of seeing LiLo incessantly photographed in a ratty band t-shirt (style copped from Sam Ronson) and plain black exercise leggings (style copped from 2006.)  However, that doesn't mean leggings themselves are a bad thing; they just need to be taken up a notch.
Luckily, designers have responded to the need with an inspired bunch of new, more creative leggings ranging from denim to leather to liquid, because sometimes skinny jeans just aren't skinny enough.
1. They look like a pair of jeans…but they sure don't feel like them.  These Vince denim leggings in a dark wash are both stylish and maybe too easy to throw on every single day ($185).
2. Jodphur leggings, like these from Rag & Bone ($230) are definitely a statement item, but one that's easy to wear.
3. We certainly love the idea of leather leggings, but without a cool eight hundred bucks to drop on them, we're more than happy to settle with this faux-leather pair from Juicy Couture ($78).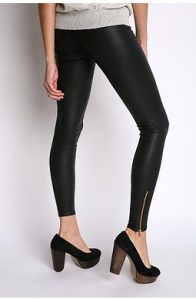 4. Subtly snakeskin-printed black leggings suddenly seem to be everywhere. We like this pair from Urban Outfitters, which also zips at the ankle ($38 from $58).
5. For those not quite ready to go the distance required by jodphurs and snake prints, ease into the trend with a pair of actual (as opposed to lookalike) denim leggings like these from J Brand ($187).
Lest you think we forgot the fast-rising trend that is liquid leggings, fear not.  We know all about those.
And if you remain a steadfast jeans girl, we have plenty of options for you to choose from to pair with a classic tee.