As we impatiently await the release of The September Issue, the upcoming documentary about the trials and tribulations of creating Vogue's fall fashion bible, we invite you join us for a brief look-back at some of the outfits that style icon, and resident Condé Nast despot, Anna Wintour has donned over the past year. After all, you may not always like what Anna wears to the various fashion shows and hoity-toity New York events she attends, but that icy stare of hers seems to command that you certainly should. Check out some of Anna's most notable looks (which must be paired with Stevie Wonder-esque sunglasses to achieve the full effect) and find out where to get them for less.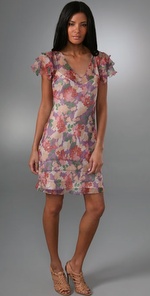 Anna's love of florals is well-known – she was photographed wearing this Caroline Herrera design three times this year – and has shown us that you can sport this springtime pattern in all seasons. Here's a similar look from What Comes Around Goes Around ($199 from $398) which, in true Anna fashion, can be worn with tights and knee-high boots come September.
Chic on the street with her daughter, Bee, Wintour dons a striking A-line floral skirt with a white button down for a very classic working-girl look. For autumn, wear a gathered skirt ($16) like Anna's with a fitted sweater tucked in.
Photographed in promotion for The September Issue, Wintour takes a power pose in this dark green sweater with a tie-neck. For the same refined style, try this Marc by Marc Jacobs Tie-Front Top ($198) in poppy.
For more high-fashion tips, browse our celebrity style guides: we've got picks for best celebrity sunglasses, jewelry and handbags.