Even when it's warm outside, necks are still accessorized.
Not only is that my motto of this past and current season, (pretty catchy, right?) but scarves are really and truly a growing trend, as the warmer weather certainly hasn't stopped women from sporting scarves. Seriously, it's still 80 degrees, and just yesterday afternoon, I spotted a woman walking down the street wearing a tank top and a scarf wrapped around her neck. And she definitely didn't look like she was sweating the sweat.
Funky scarves are everywhere, and it's all about the multi-colors, patterns and fabrics. Bright scarves are great because they work well with everything from the winter jackets you'll soon be donning to lightweight, vintage tees – they really add that extra pop. Some absolute favorites, with prices ranging from $24 to $98, are Urban Outfitter's Neon Toned Scarf, Anthropologie's Pastille Scarf and Lucky's Multicolor Scarf
.
But if you really wanna go big, (and I mean BIG) check out Nordstrom's Striped Scarf
– a scarf that basically is an outfit, all by itself! Although, if you're going out in public, the scarf alone may not be such a good idea…..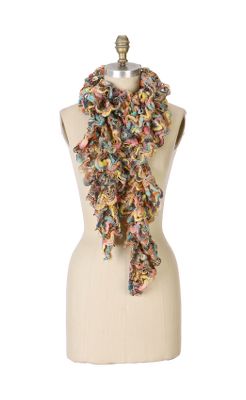 Anthropologie's Cotton Candy Scarf is romantic and playfully artistic.
Throw up your hair and throw on some simple silver earrings. Find a great selection of delicate designs, like these Stella Cruz sterling hoops for $60 at Fragments.
Now, let your scarf do all the talkin'.