Stop everything you are doing because UGG Australia is having a HUGE sale right now — and it's just in time for the cold weather and the holiday, gift-giving season! The sale includes select shoes, accessories and apparel for up to 50% off, plus FREE SHIPPING on orders over $120. Orders must be placed by 11:00 AM PST on December 21st in order to arrive for a December 25th delivery. The sale will only last until Wed. Dec. 20, so if you're looking to gift someone a new pair of boots or just want to treat yourself, you should act now! Not sure which UGGs to buy? Here are some of our favorite items we have in our virtual shopping cart right now and reviews from verified buyers:
UGG Bailey Button Bling ($129.99, originally $220)
These classic "short" UGG boots are not only comfortable but stylish as well with a Swarovski crystal button. Colors are available in Grey (above) and Port.
"My mom and I love this boots soooo much. so comfortable and cute. We already have grey pair but now its on sale so we ordered both colors again." -sayaka
"I just received these boots and they are adorable. I had planned to gift them to my sister but i think ill keep them to myself." -IrenaPX
UGG Kasen Tall ($149.99, originally $250)
The Kasen Tall boot is one of UGG's newest styles! These knee-high boots have the classic wool spill seams so you can roll them down like the classics for a more casual look. Colors come in Black (above) and Chestnut.
"I was looking for a nice pair of UGG boots that I could wear everyday with jeans and dresses. The Kasen boots are definitely a head turner and I just love the rubber heels. It is soft inside and very comfortable to walk in. Most of all, I love that I could fold it down to get a different look. Awesome versatility! Worth every penny!" -Vicky
"Comfortable boot that will take you from the day to night. The sole is rubber so they are non slip. They are so pretty I'm on the lookout for an outstanding jacket to match them. Expensive yes but these will be your go to footwear from fall to spring!" -Neigher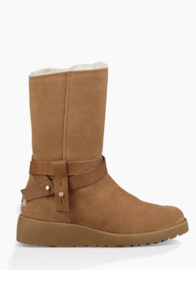 UGG Aysel ($114.99, originally $195)
These boots are similar to the UGG classics but the leather straps give it a nice, updated spin. Suede on the outside and lined inside with wool, these UGG boots will are perfect for a comfy, casual look. Colors are available in Black and Chestnut (above).
"These were my first pair of UGGs, they were a bit snug at first then they stretched a bit and fit perfect. My feet are always cold and these kept them toasty warm!" -J
"These boots are so cute and warm. I would recommend going up half a size because they are more narrow than the regular UGGs." -Steff.
UGG Vintage Denim Jacket ($299.99, originally $425)
A classic jean jacket with a fur collar? Talk about vintage! This jean jacket is made with 100% cotton denim and the collar is removable!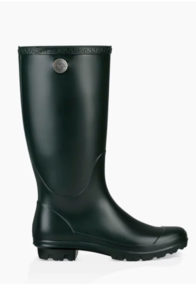 UGG Shelby Matte ($59.99, originally $85)
A classic matte rain boot is a wardrobe essential. These boots feature sheepskin-lined insole for comfort and warmth. Colors come in navy, black, garnet and olive.
"I LOVE my new rain boots, they are so comfortable and not to mention I get lots of comments on them. Make sure to purchase the boots socks for a very stylish look." -Robin
"Wow, thank you UGG for being one of the best shoe companies ever. You've made winter boots in all forms–slippers which I practically live in and now rain boots which are perfect. I love the navy matte, I love the sheep sole, and I love these boots!! Please get these boots if you're in need of a rain boot!" – Melisa
The UGG Australia sale features over 200 items on sale right now until  Wed. Dec. 20! So, what are you waiting for? Head over to UGG.com and you treat yourself to a new pair of boots! Or, learn more about the new UGG stylish boots that everyone is obsessed with at SheFinds.com
[Photos: @ugg; UGG Australia]