Ever since the button down top became a staple item in female wardrobes, women have had a love/hate relationship with the popular menswear item. From having that awkward gap in between buttons near your boobs to simply not knowing how to put a feminine take on styling it, button downs definitely weren't made with women in mind. They're that one item that gets shoved in the dark depths of your closet, dust bunnies and all, and only gets begrudgingly pulled out on occasion for work. You have to admit, though, some are actually pretty comfortable and can look great when paired with a killer skirt. They're also pretty iconic—Tom Cruise's notorious dancing scene in Risky Business that's inspired so many Halloween costumes couldn't have been made famous without the help of a trusty button down. But if you're sick of them, we come bearing good news—you don't have to wear a button down the traditional way. Mess with the sleeves, undo a few buttons, and say hello to a completely new look. Check out the best ways to style a button down that you never even knew were possible.
Shoulder-Tied:
Off-the-shoulder tops are having a major moment, so now you don't even have to go out and buy a new one. That's what button downs are for! Leave the top buttons undone and wrap the sleeves around your shoulders for a cozy and trendy AF outfit.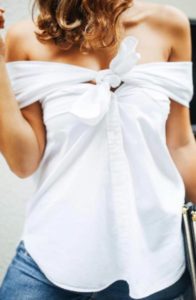 [Photo: Instagram]
Backward:
Give your button down a swift 180 and ta da—you've got a gorgeous open-back top! Leave the buttons completely undone and tie the front pieces for a sweet and sexy combo. Make this your new go-to date night look.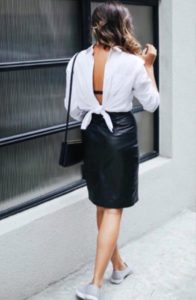 [Photo: Instagram]
Front-Tied:
A lot of summer button downs now come with extra pieces to tie in the front, but you can easily make that happen with a normal button down you already own. Blogger A Pair & A Spare pulled this look together in minutes by buttoning the three buttons below her bust, pulling the shirt below her shoulders, tucking the collar into the back, and tying the front. You can also tuck the front into your pants. Easy enough! You still get your off-the-shoulder fix and look dressed for any summer festivities coming your way.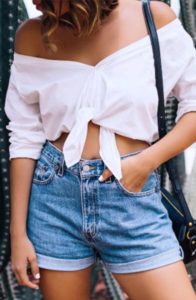 [Photo: Instagram]
As A Skirt:
This style is flat out revolutionary. Who would EVER think to turn a button down shirt into a skirt!? Wrap the top around your waist and position it so that all your business is covered up. Draw on wisdom you developed from your former college toga party days for help with this step. Then, tie the sleeves around your waist and let the skirt sit comfortably on your hips. Our minds are blown, and no one would ever know you're wearing a top as a skirt. Pure. Genius.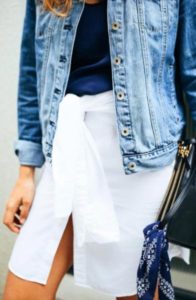 [Photo: Instagram]
Off-The-Shoulder And Waist-Tied:
A good pattern can already liven up any button down, but take it to the next level with sophisticated styling. Tug your top down to above your bust and wrap the sleeves or any excess material around your waist. Wear this to work and you'll become the top fashionista of the office—as if you weren't already.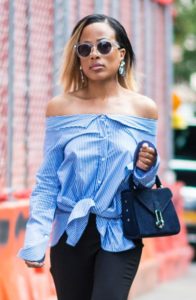 [Photo: ImaxTree]
Exposed Shoulder:
This is probably the easiest, yet chicest way to style your bland old button down. Simply leave a few top buttons undone, toss the top off one of your shoulders, tuck it in, and head out the door. You just accomplished the coolest look in a matter of 30 seconds. If only getting dressed could always be so easy.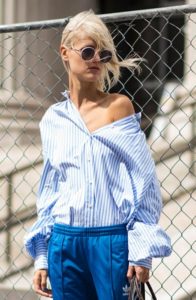 [Photo: ImaxTree]
One Shoulder:
One shoulder tops have also made a bit of a comeback, so hop on the bandwagon with this button down rendition. Tuck the sleeve on one side under your armpit and tie the two sleeves into a knot below your bust. Give normal button downs the cold shoulder after learning this handy new trick.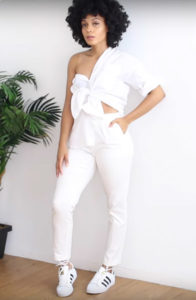 [Photo: YouTube]
Strapless:
Similar to the first style, this method gives you a sweetheart neckline and a torso-flattering top with a flick of the wrist. Button only the top buttons and situate the top comfortably around your bust. Then, tie the sleeves directly underneath your bust.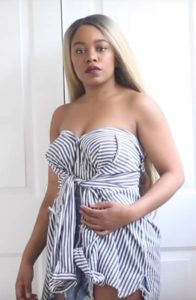 [Photo: YouTube]
Check out four ways our editors styled button downs for more workwear inspiration!
[Photo: ImaxTree]