We're well aware that too many bites of ice cream can wreak havoc on our waistline, but who knew that eating too fast lead to poor digestion and weight gain? Eww. Luckily there's a cray new fork that vibrates if you start pigging out (no joke!). The HAPIfork tracks your eating habits and automatically syncs info—including duration of meals and frequency of fork bites—to your smartphone: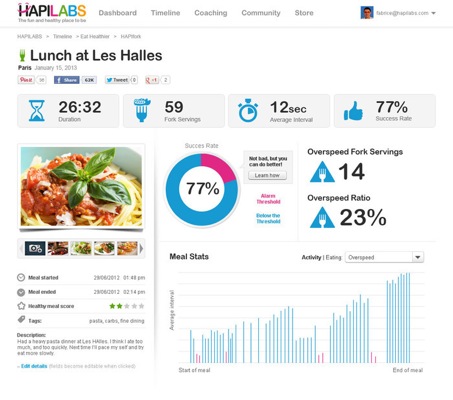 Let's not forget the most important part: the vibration setting, in which you can program the fork to buzz lightly when you start getting too aggressive on that potato salad. While it may not seem very 'happy' to get buzzed while eating, you'll be thankful come bikini season. Those bites add up real fast.
Pretty genius in our opinion, and apparently lots of other people think so too. The HAPIfork

is actually on Kickstarter right now (a funding platform for creative projects), and has almost reached their goal of raising $100,000 for the official brand launch in September 2013. You can pre-order the fork now by pledging $99 or more. A little pricey for a fork, but if it kicks us out of bad eating habits sign us up now. If only they had a buzzing cocktail glass…
For more fun news, check out YSL's tie dye nail polish, the OPI's San Franciso Collection and Deborah Lippman's Mermaid Polish now.