Now that we're over the Benefit eyeliner hype, it's time to get excited all over again, because there's more eye makeup in town. But this time, it's not liner we're jumping up and down about. It's mascara. Everyone knows the importance of long beautiful lashes, and Urban Decay is no exception. Today, UD released their new Perversion Mascara ($22) with the tagline "Bigger. Blacker. Better." With confidence like that, we knew this was going to be good.
Perversion only comes in one color, and it is the boldest, most intense, deepest black you're ever going to find, which makes it perfect for nights out. Aside from the color, Urban Decay promises that you can apply and reapply this mascara as many times as you want and it will NEVER get clumpy or sticky. (Aka. It'll take you from day to night without a problem.) This mascara is so good, you'll look like you're wearing falsies all the time. Actually, you'll probably never have eyelash envy again, because yours will be the best.
So if you want to finally achieve perfection, you should probably get a tube of this stuff right now! And, we suggest you hurry. Once everyone finds out how great this mascara is, it'll sell out in no time. Just click the link below.
GET URBAN DECAY PERVERSION MASCARA NOW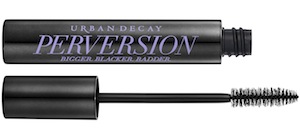 Urban Decay Perversion Mascara ($22)
For more beauty products, check out: Stila eyeliner,  the best eyeshadow palettes, and the Nordstrom Anniversary sale.