This Halloween, if you're looking to show more skin than Ke$ha, Lady Gaga, Katy Perry, and a Victoria's Secret model all combined – why not dress as Heidi Montag? The innocent-teen-turned-plastic-freak is a lot easier than you think, not to mention cheaper than what she paid. So don't worry about having a perfect body to pull this one off, your costume will be just as artificial as her:
Make sure your hair is whiter than platinum with a perfect replica Heidi wig. Try this Adult Celebrity Wig ($26.99, down from $32.99) and let us know if blondes do have more fun.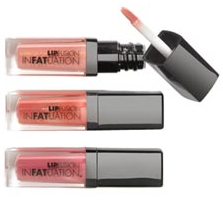 Get your own makeshift lip injections by applying LipFusion's Get InFATuated Lip Gloss ($24). Think of it as the poor man's removable lip implants.
The perfect push up bra won't give you a G-cup per say, but these Silicone Breast Enhancers ($44.99, down from $54.99) will, especially underneath this  Felina Annalise Demi Underwire Push Up Bra ($36). Give your twins those 15 minutes they deserve, a la Heidi.
Since we've replicated Heidi 'oversized flotaties' chest, why not copy her butt too? Grab a pair of Pure Style Girlfriends Bump-A-Butt Panties ($30) and even Kim Kardashian will be jealous.
Unfortunately, it's a little too chilly for a bikini at the end of October – so opt for this cheap Barbie-esque Simple Tube Dress by Atria ($130). Get your feet in on the joke with these Coatney shoes ($29.99) – there's something about white patent leather that just screams stripper.
Don't forget to bring Spencer along – grab you man this All Star Man Wig ($16.11) that mimics Spence's choppy grown-out crew cut. And of course, get him some Gypsum Desert Rose Minerals ($1.99) to hold in his other hand.
Plastic not your style? Check out more Halloween costume ideas and be a Betty or Joan from Mad Men or even Michelle Obama. Shop our guides to the best bras for big busts and the best push up bras. Sign up for SHEFindsMail to receive exclusive fashion e-mails.