If you're as excited as we are about the upcoming Vena Cava for Aqua line at Bloomingdales, you have a countdown going until the line hits (7 days). From silk ruffle tops to accordion pleated skirts, the line is playful and feminine and at Aqua prices, sure to be a hit. If you just cannot wait another week, the real Vena Cava is majorly discounted on Bloomingdales. How convenient.
Perfect for an everyday look with edge, this Vena Cava "Venice" Splatter-Print Cap-Sleeved T-Shirt dress ($165.60, down from $276) is also a bestseller on the site.
You will love the combo of on-trend military green and heather gray of this Vena Cava "High School" Jersey-Mesh Wrap Tank dress ($158, down from $395) – plus the majorly discounted pricetag.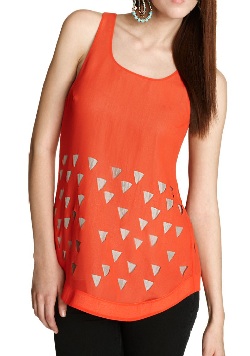 Got a pop of color, and some on-trend geometric shapes, with this Vena Cava "Train" Silk Triangle Cutout tank ($118, down from $295).
For more of our favorite collaborations, check out our guide to CJ by Cookie Johnson jeans, and our Tucker for Target coverage. Looking for more of fall's best of the best trends? Try our guides to oxfords, stylish rain boots, and leopard print shoes.