When Vera Wang showed not 1, not 2, but several purple wedding gowns on her fall 2010 runway, the bridal market took notice. If you like the look but aren't sure you want to commit to a colorful dress, little splashes might be a more viable option. Accessories like shoes, hairpieces, and colorful stone jewelry can accent your otherwise ethereal look in a stunning way:
Feeling inspired by the muted lavenders, purples, and pinks of Vera Wang's latest bridal collection? These Badgley Mischka 'Dylan' Sandals ($200) provide the same subtle hint of color without overpowering a white or ivory gown.

Add a little glimmer to your wrist in three tones with the Nadri Micro Pavé Bangle ($98), also inspired by this season's muted color palette.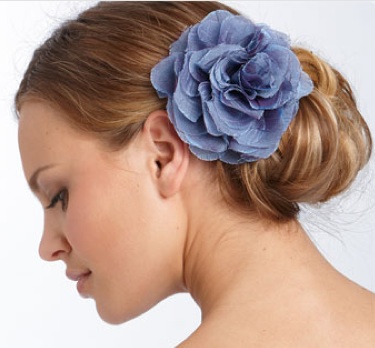 If your wedding color is blue, but you don't want a blueberry dress, try a dash of the pretty color – like in a hair clip. This Tasha Chiffon Flower Clip ($38) is perfect.

If you don't want a white shrug or wrap, this silver-y Ilana Wolf Silk Organza Wrap ($250) is stunning.

Add a sweet dusting of pink to your finished 'do with this Netted Rosette Headband ($4.80) from Forever 21. A delicate homage to today's colored runway gowns.
Enjoy more great accessory picks in our guides on bridal hair accessories, wedding jewelry sets, and wedding shoes.