If millennial beauty mavens have learned anything in the last couple years, it's that eyebrows are IMPORTANT. Don't believe it? Click HERE.
Yep, CRUCIAL. Sadly, few of us were blessed with Cara Delevingne's lush arches. It's not that having bad brows is a curse or anything, sometimes they just need a little extra help. Enter Anastasia Beverly Hills Brow Wiz.
Unlike most eyebrow pencils, Anastasia Beverly Hills looks totally natural. You can match the shade to your eyebrow color and simply fill in any sparse areas. You're not drawing on your eyebrows, you're filling them in — there's a HUGE difference. After you've touched up your brow shape, you can use the opposite end of this amazing tool to tame any stubborn hairs, brushing them back (sans static!) until they're downright brow-tastic.
Warning: everyone will want to know your secret. Tell them to click below: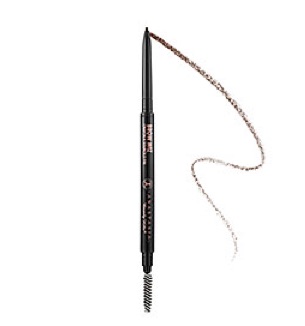 Anastasia Beverly Hills Brow Wiz ($21)
Don't forget to check out: 19 Sassy Gym Bags That You Will Want To Use IRL (Not Just For Spin Class) and Find Out What Your Wedding Bouquet Says About You