Illusion Necklines: Designers like Monique Lhuillier, Jim Hjelm and Alfred Angelo have adapted this popular gown trend (a favorite of celebrity brides like Priscilla Chan) for the bridesmaid -- ending the reign of the strapless dress. In 2013, décolletage will be adorned with lace and other sheer embellishments.
Shop: ML Monique Lhuillier Bridesmaids Lace Illusion Sheath Dress ($198)
Lace: Ever since a certain princess (ahem, Kate Middleton) wore lace to her wedding, the romantic material has been back for brides in a major way. Call it the "trickle down effect," but in 2013 lace bridesmaid dresses will be huge, too. See the lace overlays in collections by BariJay, Alfred Angelo and Love by Enzoani.
Shop: Adrianna Papell Boatneck Lace Sheath Dress ($148)
High Slits: Sky-high slits, have been big for brides ever since Angelina Jolie rocked some major leg at the Oscars, and now designers like Romona Keveza, BariJay and Monique Lhuillier, are proving that the trend is great for b-maids, too. Spicing things up for 2013, the floor-length bridesmaid gown is finally getting an eye-catching update that doesn't involve fuchsia.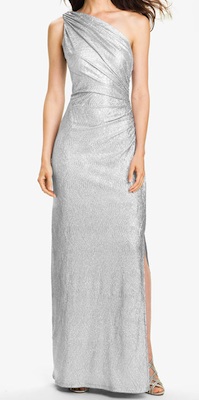 Shop: Betsy & Adam One Shoulder Shirred Metallic Gown ($155)
Skirt Drama: For some brides, simple is never an option, and big can always get bigger. Instead of turning to poufy, tulle-ridden disasters, Monique Lhuillier, Disney Fairy Tale Weddings by Alfred Angelo and Peter Langner are bringing structure and bold layering to the bottom half of bridesmaid dresses. Adapting from the "skirt drama" trend pioneered by Vera Wang for brides, these maid styles feature ruching, tiers, fit-and-flare and other bold skirt silhouettes.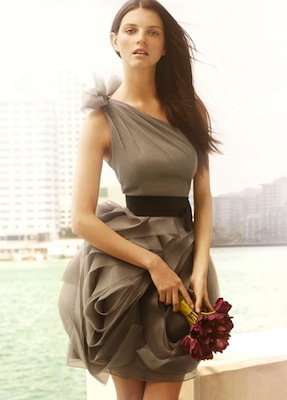 Shop: White by Vera Wang One Shoulder Organza Dress with Black Belt ($198)
Applique: As any savvy bride knows, it's all about the details. Beyond strategically placed ruching, bridesmaids gowns have been augmented with gorgeous floral applique detail in recent seasons. Designs from Disney Fairy Tale Weddings by Alfred Angelo and Peter Langner have brought the bridal embellishment to b-maid dresses for 2013.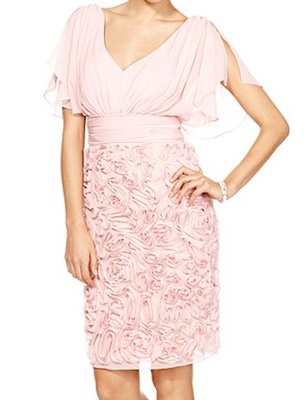 Shop: JS Collections Pleated Ribbon Applique Dress ($189)