With Beyonce's world tour going on, it can be hard to keep track of the megastar. Recently, she took a break from her tour to promote her new animated movie, Epic, in London. Beyonce must have been inspired by the movie (she voices the queen of the forest–would you expect anything less?), because she arrived at the press junket wearing a green blazer and chinos featuring a nature-inspired print. And as far as we can tell, there's no baby bump to be found under the green and blue pants. Either the rumors aren't true, or the pants are super flattering. Either way, Beyonce's Barbara Bui Printed Chino Pants ($290, down from $485) are kind of amazing–they are right on trend with this season's photoreal designs. And if Beyonce gives something her seal of approval, you know it's good.
Shop Queen Bey's outfit below:
Barbara Bui Shawl Collar Blazer ($1,114.23)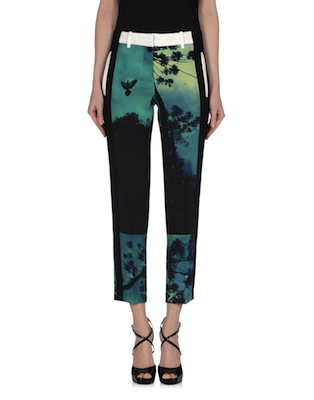 Barbara Bui Printed Chino Pants ($290, down from $485)
For more celebrity looks, be sure to check out Khole K's striped tube dress, Nikki Reed's blazer and Kerry Washington's leather dress.