Sure, school might already in session, but we're still digging the whole Ciate Chalkboard Manicure look. Even more so now that we found a $9 dupe from Revlon, and their version is actually way less messy too. The Ciate version is $25 and comes with 4 different colored markers, but you have to paint a coat of matte black polish, draw the designs on and then apply a matte top coat. That's a lot of drying time, if you ask us. Revlon's cheaper version comes equipped in a double-ended duo, so you only need one product total. It only requires a coat of the black matte polish and you're all set to paint designs on with the "chalk" end of the bottle, which has thinner brush for more intricate designs. Check out this fun plaid design using the Revlon polishes: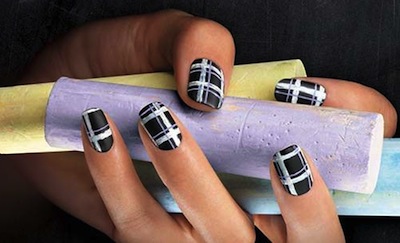 The Revlon Nail Art Chalkboard Matte Nail Enamel Collection ($8.99 each) includes shades Straight A's, Overachiever, Homecoming, Liberal Arts, Pass/Fail, Study Date, Teacher's Pet and Spring Break. And word on the PR street is that these are limited edition and will only be available for a couple months, max.
SHOP THE REVLON NAIL ART CHALKBOARD MATTE NAIL ENAMEL SHADES HERE
For more beauty news, check out: MAKE Cosmetics' do-good beauty line, Zoya x Timo Weiland and NCLA x Clueless nail wraps now.