Obviously you know by now that the Clarisonic Aria (the latest version) is one of our favorite beauty tools ever, and for many awesome reasons. For those of you that have been living under a rock, it's an electric face brush that goes above and beyond to deep clean pores and remove dirt in 60 seconds. The brush is so gentle that you can actually use it twice daily, and is said to clean the face six times better than your hands or a washcloth. The downside is that it will set you back $200. Luckily, we just discovered this AcneFree Advanced Deep Cleansing Duo ($19.99), which is a whopping $180 less. This brush and cleanser, when combined, are said to clean the skin 15 times better than any leading facial cleanser alone: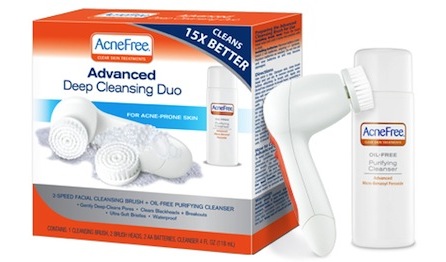 AcneFree Advanced Deep Cleansing Duo ($19.99)
Here are the major differences between the two products: 1) the AcneFree brush is slightly smaller and less powerful than the Clarisonic, 2) The Clarisonic offers three speeds while the AcneFree only has two, and 3) The AcneFree brush is battery operated while the Clarisonic comes with a charger.
Our verdict: The AcneFree version is a pretty darn good dupe for the price tag and leaves the skin squeaky clean, but the Clarisonic still does the job way better (we'd hope so since it's $180 more!). While it may be a bit pricey, think of it as a cost effective way to fight wrinkles and keep your skin in tip-top shape: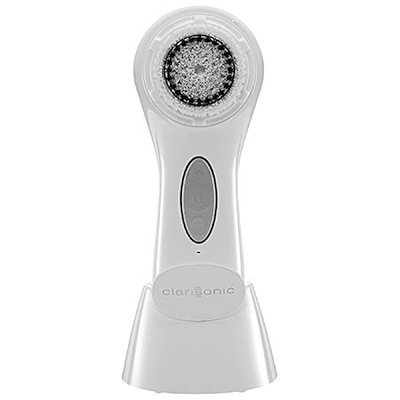 Clarisonic Aria ($199)
Regardless of which option you choose, rest assured that your face will be way more clean than with just a washcloth or cleanser alone. Trust us when we say that a face cleansing brush is something that every gal needs in her life. It's a legit game changer when it comes to gorgeous skin.
For more beauty news, check out: MAC's Stroke of Midnight Collection, cult-favorite skincare products and Nails Inc.'s Fibre Optic collection.