When it comes to wedding dresses, the possibilities are endless. You can go long or short, drop waist or ball gown, white or one of the many shades of off-white. With so many choices you could spend an eternity at the bridal salon… or Pinning dresses to your dream board.
Enter Wedding Dress Creator, a recently-upgraded site where you can design your own wedding dress virtually. We just discovered it and have already wasted logged several hours on the site. Although you can't order the dress (here are 4 sites where you can), it's an awesomely addictive tool for trying out different styles and silhouettes. See what works then print out the dress and bring it to your first bridal salon appointment (or better yet, take it to a custom dress maker). Here's how it works:
First, you pick a model with your likeness, including hair length, hair color and skin tone (there are 29 different hairstyles to choose from, including updo's). The next step is to start customizing the silhouette and features of the dress — choose from a variety of necklines, midriffs and skirt shapes. Dress colors are adjustable, too, so you can see your gown in white, off-whites and even color. There are 57 kinds of necklines alone to choose from — from the obvious (off the shoulder, halter, etc.) to the extremely specific (the 'Queen Anne' to 'Renaissance')." Accessories include belts, sashes, cloaks and shrugs, some beaded, some not. Headpieces include everything from tiaras to feathers to a delicate strand called Elven Princess.
You can now save and print your creations or share them to Facebook. (In case you need input from the peanut gallery about your wedding look.)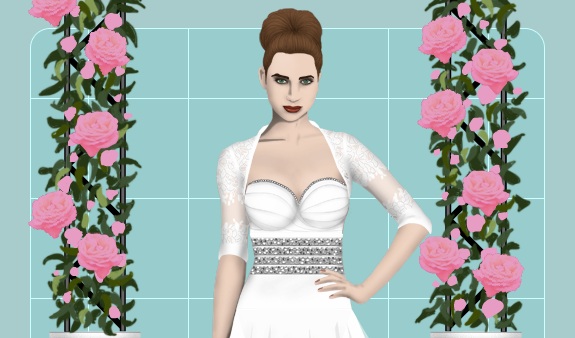 A dress style we just whipped up. Whaddya think?
It's fun and user-friendly, and a fantastic way to completely lose track of time, even if you're not planning a wedding.
Love wedding style? Check out Crystal Floral Accessories For Fall, 15 Drool-Worthy Wedding Shoes and What Your Wedding Scent Says About You.