Thick, vertical stripes – burglar stripes to those in the know – were a hit on the Spring/Summer 2013 runways, and I couldn't wait for the trend to hit stores. But now that it's here, I've discovered that this bold look is trickier to wear than I had originally anticipated. (Yes, even us bloggers have our fashion brain freezes!) Thankfully, street style maven Taylor Tomasi Hill came to the rescue when she stepped out in a burglar stripe ensemble that made me forget my fears of looking like Beetlejuice or a Foot Locker employee. It was instant inspiration and an easy outfit formula to follow:
1. Start with a pair of burglar stripe pants. This is not a trend to wear head to toe. Instead, invest in pair of well-made thick vertical striped pants. Sites like Bloomingdales, Saks, and Topshop all have good options. Remember, burglar stripes beg for attention, so whether you choose a flare, bootcut or skinny pant, make sure that they are tailored to your body for the most flattering fit.
2. Add a dark, monochromatic top. To avoid a look that's too stark, pair your pants with a dark-hued, monochromatic top. Fabric and fit are up to you, but navy, black, and grey are our colors of choice.
3. Throw on a pair of high, high heels. If you're a ballet flats-only kind of girl and want to wear burglar stripes, too bad, because this trend was made for high heels. The vertical lines and added height will give you legs for days. If your pant has a dramatic flare, opt for a pair of wedge sandals to continue the bohemian vibe; otherwise, a pair of basic pumps in either nude or black will do the trick.
And there you have it! The easy peasy way to wear burglar stripes and look great doing it. We've pulled together some looks that follow this formula for you to shop below.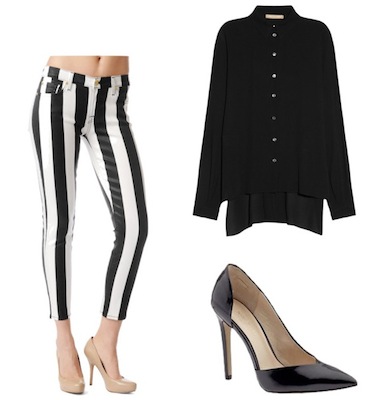 Get the look: Crop Slim Stripe Cigarette Jeans ($198); Split Sleeve Silk Georgette Blouse ($795); Goulding 3 Pump ($89)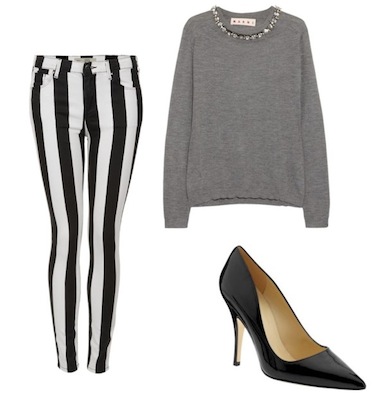 Get the look: Moto Stripe Leigh Jeans ($80); Embellished Cashmere Sweater ($1,230); Licorice Pump ($298)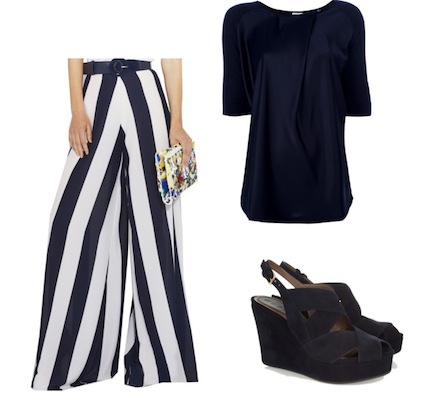 Get the look: Super Flare Wide Leg Pant ($297); Button Neck Blouse ($350); Suede Wedge Sandals ($830)
Like this post? Check out how to wear a sweatshirt to work. And see the first photos of Banana Republic's latest Mad Men collab and Kate Middleton's pregnancy style.