The first step in any weight loss journey? Admitting and accepting that you actually want to lose weight. It may sound simple, but this isn't always easy for some people. By coming to terms with the fact that you want to lose weight, you may also be admitting to yourself that you're not 100% happy with the way you look or that your eating habits may be a bit out of control.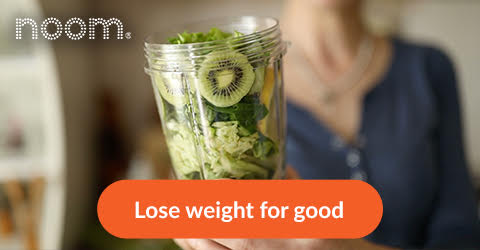 Though it may be difficult, taking that first step on a weight loss journey is important. Once you resolve to yourself that you want to lose weight and that you're committed to doing so, you can then get to the exciting part of actually making those results a reality.
While some people have lots of success reaching their weight loss goal all on their own, more people thrive when they have the support of a coach or weight loss community. Now if you're starting to fret about the thought of bearing your soul at a gym or a meeting, relax! There are tons of really amazing weight loss programs online and they're incredibly easy and effective for all different kinds of people.
Choosing the right weight loss program online for you can feel daunting, but that's what we're here for. When it comes to successful weight loss with long-term results, there's one online program that's better than the rest: Noom. With all the options out there, what sets Noom apart? Everything! Here are a few reasons we really love this online weight loss program:
1. The Science. Noom isn't a weight loss program that focuses solely on nutrition or fitness. Instead, it's grounded in cognitive behavior therapy. Unfamiliar with this science? It's actually a really incredible way to approach weight loss because rather than fixating only on a few small things (like the number of calories you consume), it shifts that focus to identifying and changing lifestyle behaviors that impact your ability to lose weight–and keep it off!–for good. It's actually pretty groundbreaking!
2. The Support. When you sign up with Noom, not only will you get access to the Noom community made up of people on a journey to healthier living just like you (more on that later), but you'll also have access to expert resources in their newsletters and on their blog. But that's not all! Noom also matches each member with a personal coach that is there to support, motivate and empower you. The coaches are trained to cheer you on in the good times and also lift you up in the harder times.
3. The Community. Another perk of getting started with Noom's weight loss program online? You'll be joining a community committed to healthier lifestyles. They're there to answer your questions, provide support and encourage you along your journey.
4. The Results. Because Noom is focused on lifestyle and behavior changes (not just what you eat), the results people see with Noom actually last. They're sustainable so that you look and feel your best for the rest of your life.
If you're finally ready to embark on a weight loss journey that doesn't help the pounds fall off, but also makes you feel better on the inside too, now's the time to sign up with Noom.
The editors at SheFinds created this article in partnership with Noom.