Mornings can be hard. We're not arguing with you on that one. And that's why we are all about products that can make our mornings just a little bit more seamless, because they definitely can not get any crazier.
As we know, breakfast is the most important meal of the day. So it should definitely be a balanced and nutritional meal after all. But when you're in a rush, it just seems so much easier and quicker to go through the drive through or stop and get a bagel on your way to work. Until now that is. We just discovered Ready To Thrive! frozen smoothie cups and it doesn't get much easier than this.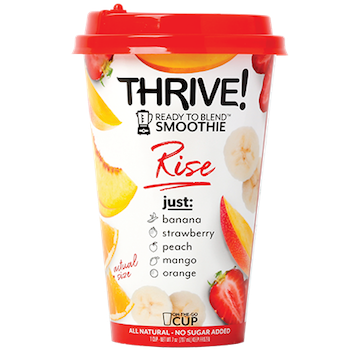 These ready-to-blend cups were made to fuel a healthy, on-the-go lifestyle as they are vegan, gluten-free and low in sugar. Each pre-portioned cup is made with 100% natural ingredients so all you have to do is pour it into your blender with your choice of a liquid base and blend. No cutting, no measuring, just a delicious breakfast in less than five minutes.
I don't know about you. but these seem pretty life-changing to us. If you're ready to stock up on these for those busy mornings, then make sure to grab them the next time you are at Target!