What an interesting mix of gals to share a pair of Siwy Camilla Cut Off Shorts in Snowstorm ($165). First, Lindsay Lohan shows some skin with the super short shorts, while still trying to conceal herself from what is most likely a swarm of paparazzi. Then, Miley Cyrus (pre-gluten-free) is clearly at peace with her cut-off pair. And finally, we have ultimate style icon Kate Moss, who's perfected the look of cut off denim shorts with a pair of muddy wellies—as seen at many summer festivals by more stylish It girls than we can keep track of.
What makes these shorts your top choice for summer is its bright white shade, which goes with just about anything in your wardrobe. Plus, Siwy claims these cut offs won't continue to fray or get any shorter. As if this tiny pair can get any shorter!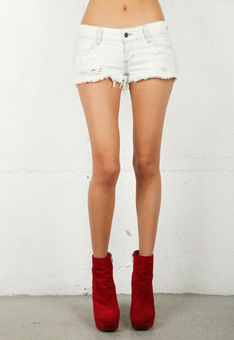 Siwy Camilla Cut Off Shorts in Snowstorm ($165)
Shop more celebrity style finds: Jessica Alba's TOMS shoes, Rachel Bilson's dress, and Reese Witherspoon's accessories.