It's no surprise that Taylor Swift writes the greatest, catchiest country-pop love anthems of our generation – look at this dating record! Her hot, young, Hollywood boyfriends have included Joe Jonas, Jake Gyllenhaal, John Mayer, Conor Kennedy, and now to tweeners dismay, Harry Styles from One Direction.
Turning exes into tracks is sticky business, but looking good doing it is not. Taylor may only be 23, but she's quickly becoming quite the style maven. Take her ASOS Skater Dress in Hummingbird Print ($43), which costs way less than a One Direction nose bleed seat. Her relationships may not last (do they ever?), but this dress certainly will in your closet. If the dress is sold out by the time this story goes to print, here's a worthy alternative: this skirt version: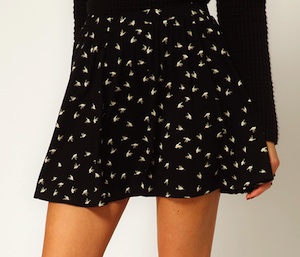 ASOS Skater Skirt in Hummingbird Print ($28.14)
[Photo Credit: Splash News]
Looking for more youthful Taylor Swift outfits? Check out her Coach hands-free bag, French Connection collared top, and red lace dress.