Marketing Coordinator Daniella Shevel is obsessed with anything Alice + Olivia. Her fall pick from her fave brand is the Wiley Woven Collar & Cuff Sweater ($297). On the sweater: "Love this for fall as the collar and cuffs are detachable, super classy and feminine".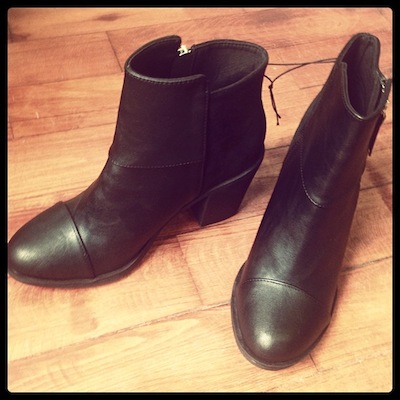 Editorial Director Jeanine Edwards knows a good deal (and shoe) when she sees one: "I'm beyond impressed with H&M's boot selection this fall. I've never purchased shoes from H&M before, but I couldn't resist these simple black booties. They were only $34.95!". H&M Ankle Boots ($34.95)
Sales Manager Karen Abiog got these Burberry Rain Boots ($275) because of their height. She explains, "Walking around in tall rain boots isn't comfortable, but these are perfect". Truer words have never been spoken.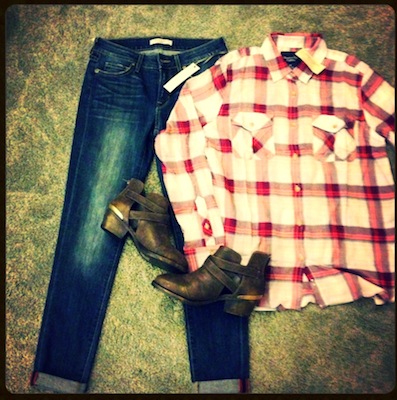 Editorial Assistant Kate Holland says this will be her go-to outfit for fall. Shop all her picks and maybe we'll mistake you for Kate.
AE Plaid Shirt ($19.99, down from $44.95),
Rich & Skinny Relaxed Ankle Jeans ($150)
and similar booties: Jeffrey Campbell Booties - Everly Cutout ($220)
Senior Editor Justine Schwartz got this necklace for its "90s hip-hop, Run-DMC" vibe. Check out her new single dropping next week. All kidding aside, she says, "The price is pretty good, too, and the necklace itself isn't too heavy. I wore it for 12 hours straight yesterday - from fashion week shows, to work, to parties - and it was totally fine." Sounds like a no-brainer to us. Adia Kibur Link Chain Necklace ($70)
Graphic Designer Shelby Rodriguez knows how to rock a good metallic nail for fall with her butter London 3 Free Nail Lacquer in Wallis ($15)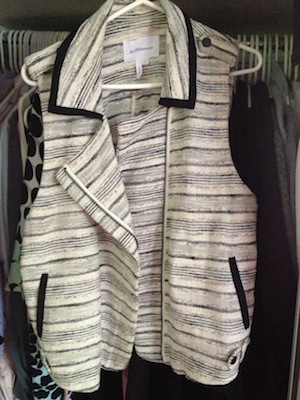 "I'm obsessed with BCBGeneration and I feel like they're somewhat underrated. This brand is my go-to for everyday clothes. I got this vest because it's a perfect transition piece, I can wear a short sleeve shirt underneath or long sleeve dress when it gets colder. I also got it at L&T's sale for 40% off." Karen explains of her BCBGeneration Trimmed Stripe Moto Vest ($128)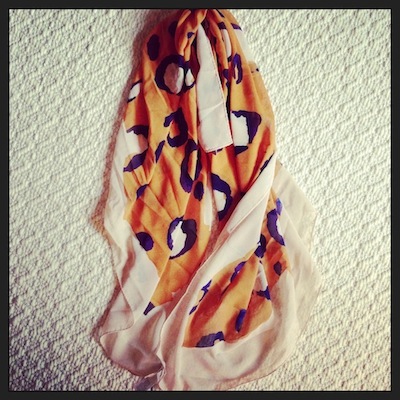 Justine was lucky enough to get a sneak peek at the 3.1 Phillip Lim for Target collection before it hits stores this Sunday. Her pick from the line? The Phillip Lim For Target Scarf ($19.99). Why?: " Everyone is going nuts about the bags - but I am loving this orange and blue oversized animal print."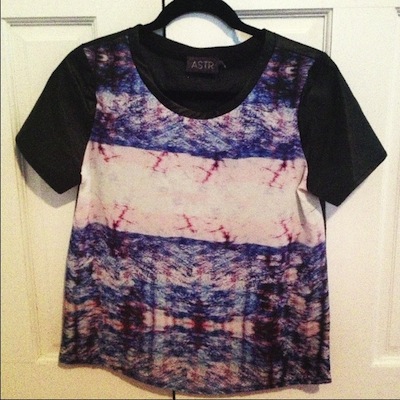 Editorial Assistant Sara Alderman is all about leather for fall. "I was totally sold on the leather accents of this colorful tee. And have you seen the back?!" It's also on sale now, so there's really nothing bad about it. ASTR Faux Leather Back Tee ($19.97. down from $58)
"Found these at Treasure and Bond in Soho... On sale, real leather, no brainer :) don't know the brand ;/". These were just too good not to include, but we found a similar clutch to the one Daniella will be rocking this fall: Foldover Clutch/Zipper Pouch in Turquoise and Blue ($37)
We're not surprised that Shelby's Buffalo by David Bitton Distressed Leather Jacket is sold out, it's the perfect treat yo self for fall gift.
When Kate buys makeup, you know it's good. She's our in-office beauty guru. After spending all summer trying new makeup, she finally invested in some new brushes for fall. It Cosmetics Special Edition 6-pc. Vanity Brush Collection ($49.50)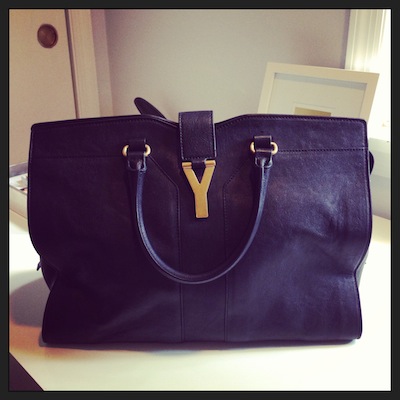 Justine's Saint Laurent Cabas Chyc Tote ($2,450) has been the talk of the office, we're all obsessed. She says, "A good way to start the new season is by splurging on a staple - like shoes or a handbag - something you'll wear with every single outfit." Reason enough for us. "It's also the last version of this bag in existence since Hedi Slimane took over Saint Laurent and changed the name and the look of everything. It was only available at 1 store online - I'm pretty proud of this find! We are too, JS.