Telling a girl she has cankles – the decidedly unattractive calf / ankle hybrid – is one of the worst things you can do. Cankles have definitely ended friendships, and maybe even presidential bids. Despite claims to the contrary by gyms, cankles cannot be removed by simple spot reduction exercises.
Now even the Wall Street Journal has noted it as a serious issue.  Ladies – you may need to look down and see if you're in need of some help.
If you're worried about cankles (or just want your legs to look as long and sexy as possible) your wardrobe is your best friend with just a few careful choices.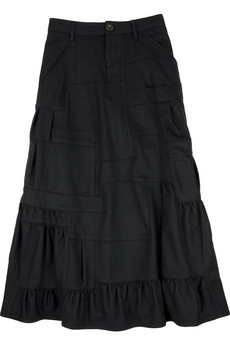 1. First option – just cover your ankles. A maxi skirt that falls just above your feet. This provides the perfect coverage without having to resort to heavy pants.
2. Wear skinnifying shoes, like high-heeled pumps in a neutral color. High heels make legs look longer, and ones that are close in color to your skin tone will elongate legs even more.
3. Pick your pants wisely and avoid calf-length capris.  There is no better way to make your ankles blur into your calves than by covering any definition your calves may have. Instead, leave the knee visible with bermuda shorts, like this sleek black pair.