There's something about the holidays that makes you want to dress up. However, when it comes to Thanksgiving, you also want to be comfortable in a stylish outfit so that you have plenty of room for lots of food. Luckily, you can have the best of both worlds by putting together a brand new outfit that's both fashionable and practical for Thanksgiving this year. So, if you're wondering about what to wear to Thanksgiving dinner then we've got two complete outfit ideas for you. One of which is dressier (yet still comfortable), and the other is much more relaxed and casual (yet still trendy). Without further ado, let's dive into what you can wear for Thanksgiving this year.
It's no secret that embroidered everything has been trending in the fashion world this fall. You can keep up with trends and still remain comfortable in this loose embroidered floral dress from Topshop. This is a perfect outfit option if you're in the mood to dress up this holiday season, look cute, and still have lots of room for a food baby.
Topshop Embroidered Balloon Sleeve Mini Dress ($60.00)
To be honest, you never really know what kind of weather you'll get on Thanksgiving since the weather seems to be forever fluctuating. So, it's always smart to have a pair of tights handy in case the holiday falls on a day that's chillier than you expected. You can easily pick up these black opaque tights from Forever 21 for less than $6.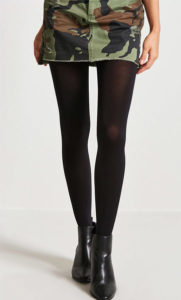 Forever 21 Classic Opaque Tights ($5.90)
And you can never have too many pairs of classic black booties, right? We love this pair of faux leather ankle boots, also from Forever 21, for the holiday season. They pretty much go with any outfit that you ultimately end up putting together before heading out the door. Plus, you certainly can't beat the price– they're less than $30!
Forever 21 Faux Leather Ankle Boots ($29.90)
Now, let's move onto a more casual look if dresses aren't your thing. Chenille sweaters have seemingly been popping up everywhere in stores this fall. We love this burnt orange option that's perfect for autumn and will also keep you extra cozy.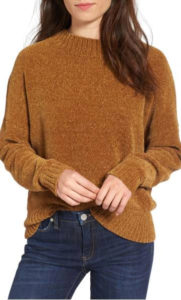 Nordstrom BP. Chenille Funnel Neck Sweater ($49.00)
Our favorite part about these moto-styled pants is that they're actually leggings. Leggings are obviously a great choice for your Thanksgiving outfit since they're comfortable and go with pretty much everything. We particularly like this pair of leggings because they don't really look like leggings, but they feel just as comfortable as your favorite everyday pair. The detailing makes them extra cute and you can pick them up in black or olive green for less than $40.
Nordstrom BP. Moto Leggings ($39.00)
Be sure to pick up the Forever 21 black booties no matter what outfit look you're going for this year. As you can tell, this pair would complete each of the looks we've suggested here– both dressy and casual. And like we said, another pair of booties in your wardrobe has certainly never hurt anybody.
Forever 21 Faux Leather Ankle Boots ($29.90)
We've got you covered on all of the outfit ideas you need to know, no matter the event or occasion. For more, make sure to check out what to wear on a first date, and what to wear with converse.
[Photo: Shutterstock]