The only thing more nerve-wracking than meeting up with a new person who might be "the one" is deciding what to wear on a first date. You want to look put together, but not boring. You want to look nice, but not overdressed. Well, don't fret! We're here to help you figure out what to wear on a first date. Let us handle this part for you so you have one less thing to worry about!
The key to dressing for a first date is to be true to yourself. Don't dress up as someone you think the person you are meeting wants to date. After all, if you want the first date to lead to a second, there is no point in pretending to be someone your not. So, dress up as none other than the awesome person you are! Picking out an outfit for a date should be just as fun as dating itself.
So, here are my suggestions to looking your best, which will make you feel your best.
For a casual, daytime date:
1. Leather jacket 
You can never, ever go wrong with a leather jacket. It's chic, timeless, goes with practically everything and keeps you warm!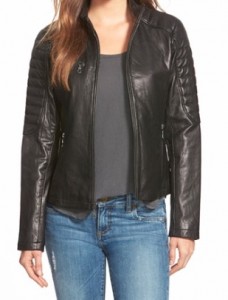 DKNY Lambskin Leather Zip Front Jacket ($299.90)
2. Dark-wash distressed skinny jeans
A rule of thumb I've always had is the darker the wash, the more flattering the jeans! Plus, the distressed look gives you that classic but casual and easy-going feel.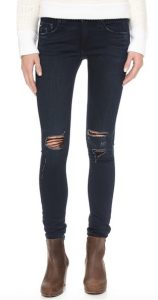 Rag & Bone /JEAN The Skinny Jeans ($255)
3. Unique top
I love wearing tops that are casual but unique. These are the kind that are a classic silhouette, yet the details make them one-of-a-kind.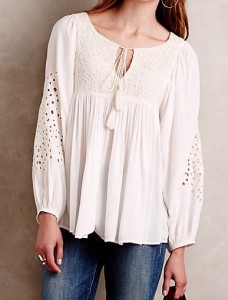 Mirabella Peasant Top ($138)
4. Booties
They give you some extra height and they're laid-back…what more could you want in a shoe?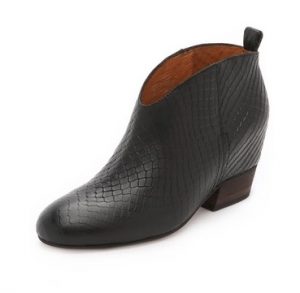 Matiko Paine Hidden Booties ($182)
For a more formal night out date:
1. Black jumpsuit
It's a bit of a twist from the typical LBD, but a little more unexpected. I think an all black jumpsuit will flatter any figure, plus they're easy to accessorize.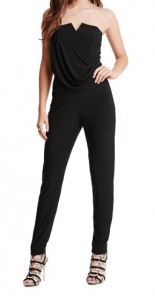 GUESS 'Brooke' Strapless Jumpsuit ($89.99, down from $178)
2. Black cape
Capes are fun because they're sleeveless, which not only is more comfortable but also very fashion-forward, and it'll keep you warm depending on what the weather forecast is for your date night!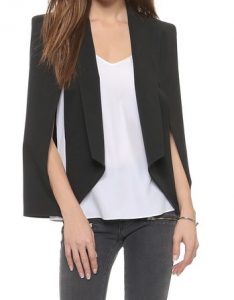 James Jeans Blazer Cape ($290)
3. Statement Piece
Jewelry is usually the way to go in this category since it's small, yet has the ability to really stand out from the rest of your outfit if it's special enough. In this case, I picked a statement necklace. It makes the most out of the strapless fit of the jumpsuit. Also, they are just the best because they can take an outfit from boring to a double-take.
Topshop Rhinestone Cluster Bib Necklace ($35)
3. Black pumps
Since you have the statement necklace, or any statement jewelry on for that matter, you don't want to overpower what's already a great outfit. By keeping the shoes at a neutral color, you're highlighting the necklace and keeping your look classy.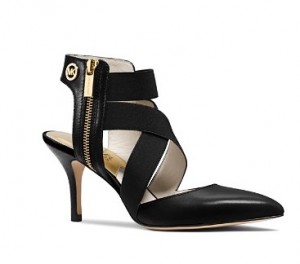 Michael Kors Meadow Mid Heel Pumps ($140)
Let us know if these tips worked for your big night (or day) out!
Don't forget to check out: Does Chocolate Really Make You Break Out? The Answer., It's Confirmed: Sam Smith Is Taking A Break From The Music Industry, and Heartbreaking Celebrity Breakups
[Photo: Brooklyn Blonde]