This Thanksgiving, we're devoting our gratitude to Spandex, Spanx, and all things stretchy—because whether you're celebrating with the fam, friends, or the in-laws, your food baby is the one guest who isn't invited to the festivities.
Check out our guide to dressing comfortably in three very different Thanksgiving scenarios: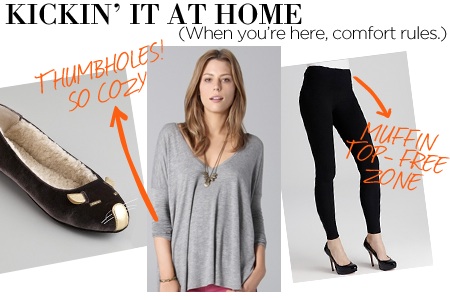 Since you're spending Thanksgiving with the fam, feel free to dress it down a bit: you've got no one to impress and you'll be guaranteed to go back for that second, third, or fourth serving of Grandma's famous pumpkin pie. Comfort is key here: play it up with shearling-lined ballet slippers, a flowy trapeze top, and high-waisted shapewear leggings.
From left: Marc by Marc Jacobs Velvet Mouse Slippers ($195), Feel The Piece Robin Flowy Top With Thumbholes ($124), Lisse Shaping Leggings ($58).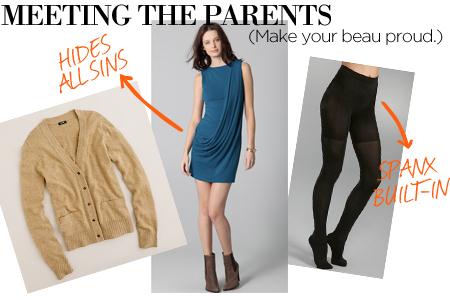 Meeting the parents this year? Might as well stay comfortable while the pressure's on. Wear tights with Spanx built in and a draped dress to hide any excess bulk. A simple cardigan will be enough to cover up those bare shoulders while still looking cute.
From left: J.Crew Dream Cardigan ($85), Susana Monaco Nolita Dress ($194),  Spanx Tight End Tights ($26).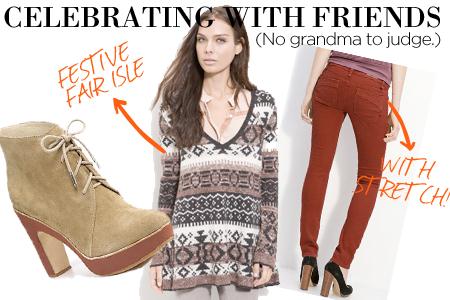 Celebrating Turkey Day with friends this year? Lucky you. Wear festive colors like rust and prints like fair isle–a pair of on-trend heeled desert booties will have you ready for some post-feast partying or good old-fashioned leaf jumping.
From left: Kors Michael Kors Divina Desert Bootie ($275), Free People Cabin Fever Pullover ($118), Sanctuary Charmer Skinny Jeans ($139).
Also, be sure to shop our guides to the best black flat boots, best jeggings, and all of our holiday gift picks in this year's Going, Going, Gone Guide.