It's almost summer, which means it's almost time for my favorite kind of footwear–boat shoes! The only problem? What the heck to wear with these babies! They're traditionally intended to be worn without anything underneath, but as someone who constantly worries about blisters (and dreaded foot smell) this isn't really an option. I've tried tons of different options, but until recently, haven't been able to settle on a strategy. Regular no show socks always slide down over my heel–or worse, over my toes–and toe cover socks do nothing to prevent heel blisters. My friends still won't let me forget the one time that I attempted to wear regular footies, a combination that is, according to them, "even less fashionable than socks with Birkenstocks."
With so much thwarting my efforts to wear boat shoes, you can only imagine my delight when I discovered Sperry's Invisible Liners while purchasing this year's pair of Top Siders.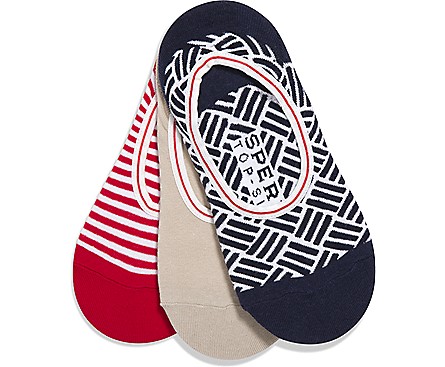 STRIPED CANOE INVISIBLE SOCK LINER 3-PACK ($16)
These liners have made wearing boat shoes so easy that I might have to buy another pair. The benefit of these liners is that they're specifically designed to fit under boat shoes. This means that they have longer front tops than regular no-show socks, so they cover the top of your foot without peeking out. Even better, the back of the liners is woven in a special pattern called "wave siping," which keeps them from slipping down your heel, even on days when you have to run to the subway. They're also sewn so that the seam of the liner isn't at your toes, which means no more rubbing. Plus, they come in some fabulous colors!
If you're counting down the days until you bust out your boat shoes, order a pair–or two or three or four!–of these Invisible Liners asap.
SHOP SPERRY'S INVISIBLE LINERS NOW
You should also check out This Is What To Wear With Converse (Don't Go Sockless!) and These Are The Socks You Should Be Wearing With Heels (Yes, You Should Be Wearing Socks With Heels!)
[Photo: Damsel In Dior]