Here's the thing about espadrilles – they might seem all summery, but when they're of the flat, closed-toe vareity, they're actually a very useful shoe to take straight through the first half of fall.  And if you think the shoe might make you look like you're a hopeful tourist, or your kindergarten teacher, don't fret.  This is an understated, stylish staple that just has to be paired right.
We recommend starting with a pair of relaxed and slightly broken-in straight-leg jeans (Levi's, of course, which are a classic) and topping off the look with a crisp white blouse (this keeps everything grown-up.)
And in the middle, a colorful tote bag, long necklace, and understated studs will keep you accessorized yet looking just right.
Ras Ballet Flat Espadrille, $134
Banana Republic Pleated Blouse, $60
Levi's Capital E Ruler Straight Leg Jeans, $198
Tory Burch Nylon Ella Tote, $250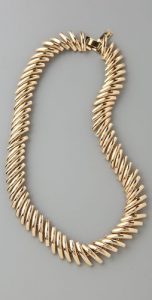 Tuleste Market Macaroni Necklace, $115
Juicy Couture Flower Stud Earrings, $48
For more advice, check out how to wear summer booties, but make sure you peruse our guides to flat shoes and shoes you can walk in for the biggest variety of stylish flat feet.