Planning a wedding can turn even the best of us into raving, maniacal sociopaths. There's so much pressure to make your day distinctly, uniquely YOU, that it's easy to crumble under the pressure. Some brides sail through the whole process with ease, some obsess about every little detail, some are constantly comparing theirs to others, and some just retreat in to a world of whimsy. And some brides drink their way through the whole process, battling with bridesmaids, in-laws and even their own grooms. Which begs the question: which type of bride are you? 
Jealous Bride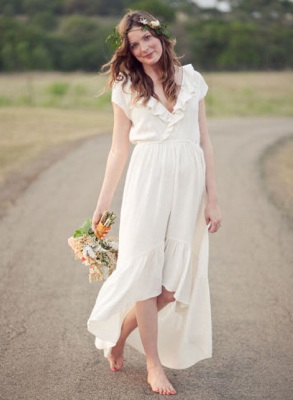 (Source: Style Me Pretty)
Laid-Back Bride
You never fight with your groom or mother about anything wedding-related.
You're getting married in flip-flops — or barefoot!
You're not getting your hair or makeup professionally done. That's what friends are for!
Your flower girls are wearing floral wreaths.
You're getting married at City Hall.
Budget Bride
You're shvitzing over the price of professional floral arrangements. They cost HOW much?!
You're not afraid to DIY big ticket items — like the cake or your dress.
You sent invitations via Paperless Post.
You're going to beg, borrow, and steal your way to the perfect wedding.
(Source: Green Wedding Shoes)
Cool Bride
You told your bridesmaids they could wear whatever they want (and you mean it).
You'll be handing out sunglasses wedding favors.
You'll be the last person on the dance floor.
George Clinton is your wedding performer.
Guests are constantly texting you how excited they are for the wedding – and it's still 8 months away.
Eclectic Bride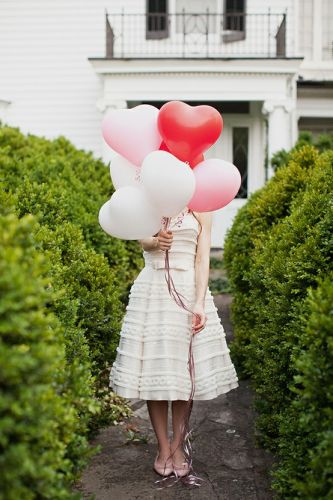 (Source: Jodi Miller Photography)
Whimsical Bride
A wedding is just an opportunity to put your whimsical quirks on full display.
You bought most of your decor on Etsy — and you're even registered there.
You have one or all of the above: giant balloons, top hats, parasols, cotton candy machines.
Your celebrity bride crush is Kate Moss.
Dead Serious Bride
Your wedding is currently the most important thing on the planet.
You're suffering from "Bride Brain."
You're a prime candidate for TLC's Bridezilla.
(Source: OneWed)
Romantic Bride
Romance is your raison d'etre.
You've been dreaming about your wedding day since you were 8-years-old.
Your wedding colors are pink or floral.
You're throwing a peony-themed wedding.
Your favorite celebrity bride was Kate Middleton.
Bad-Ass Bride
You have tattoos – and you won't be concealing them.
There's a good chance you'll black-out at the reception.
Your favorite bog is Rock 'N' Roll Bride.
Your parents are worried the cops are going to be called.
You're first dance is classic rock, and you picked it from this list of Alternative First Dance Songs.
(Source: Jonas Peterson)
Modern Bride
Your wedding is going to be covered in a wedding blog or magazine.
You're wearing a designer gown, Christian Louboutin shoes and heirloom jewelry.
You can instinctively filter tasteful decor from trendy ones.
You're favorite blogs are BRIDEfinds, Martha Stewart Weddings and Style Me Pretty.
Are you a bride on the hunt for inspired wedding finds? (We're guessing yes.) Check out our guides to the best simple wedding dresses, unique wedding invitations, and cheap bridesmaid dresses.