Audrey Hepburn's black Givenchy dress from Breakfast At Tiffany's won the greatest female screen outfit in a survey conducted by U.K. based Lovefilm. This isn't really shocking since women copy Hepburn's iconic look from the film all the time–but  we can't seem to get tired of it. Someone with a lot of extra cash bought the actual dress for $580,000 at an auction four years ago, but we have three affordable black dresses that we're sure Holly Golightly would wear today:
Wear this Talbot's ponte knit dress ($99) to work or out for cocktails. It has a great shape and pocket details that don't add on volume to your waist.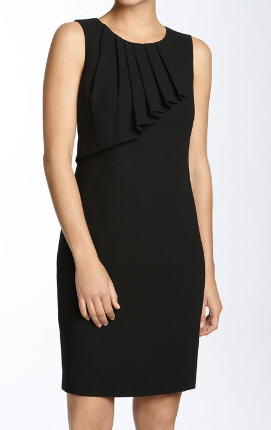 We love the modern ruffle detail on this Calvin Klein Asymmetrical Ruffle Crepe Sheath Dress ($118) that would look great worn with a simple black belt.
For an option with sleeves, we love this Banana Republic Seamed Dress ($130) that has clever seems that make anyone look slimmer.
Check out our guides to the best black floral dresses, the best sunglasses, and the best necklaces.