Forget you are what you eat. According to Luxist.com, you are what you tote. We have to agree–the type of handbag you carry can say a lot about your taste, and in some cases,  your personality. The site posted their own bag personality test of sorts today, claiming that a shoulder bag says you are thoughtful and practical and sporting a knock-off says you put "a fake front to the world." Seems a bit like an old YM horoscope  if you ask me (and just a tad more dramatic). Here's what your handbag is actually saying:
1. Oversized: We love a handbag that's half our body mass for two key reasons. First, its girth inevitably creates the illusion that you are thinner than you really are;  secondly, we appreciate a bag we can use everyday, constantly add to and never sort through. Conclusion? An awesome bag like Tano's gold hobo means you're pretty clever, and kind of lazy.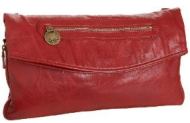 2. Clutch: Luxist claims that if you carry a clutch on a daily basis you are a "jet-setter." Get real. Everyone knows toting a bag as small as this cute, foldover style during the day denotes either (a) you have an assistant–or boyfriend–trailing close behind carrying your real stuff or (b) you're on a walk of shame.
3. Neutral: Apparently toting Juicy's neutral Rule Breaker bag says you're personable and friendly. A neutral handbag says you're a pragmatic shopper – you'll shell out for something that you know will go with everything–but we can't vouch for the  friendly part.
4. Flashy: Indeed, a colorful or eye-catching handbag does indicate confidence, but as cool as designs like this Felix Rey clutch are, wearing a flashy style also represents a blatant disregard for those you might blind while walking down the street.
So we say, don this guy with caution and don't forget to check out our guides to the best in evening bags, designer handbags, and really big totes for more talkative picks.