What's Worse About This Olsens-Designed Backpack: That It's $55K Or Covered In Pills?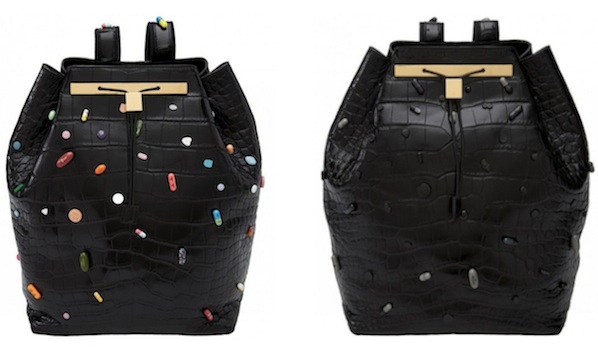 Finally, something more ridiculous than Victoria Beckham's $30,000 handbag: the Olsen twins have teamed up with artist Damien Hirst on a $55,000 backpack that is sprinkled with pills. The Damien Hirst x The Row limited edition collection (only 12 were made) is being sold at Just One Eye. Sales of the bag benefit UNICEF, so I supposed I shouldn't rave about how depraved and ridiculous it is – but I will. Should the Olsens, who lost close friend Heath Ledger to prescription drugs in 2008, be pushing pills? And who the FRACK has $55K to spend on basically a gag gift? This is not like a vintage Hermes Birkin that you'll have forever and pass on to your daughter – this is a borderline offensive bag that only someone as rich and ridiculous as Kanye West could wear. Oh, and dear PETA: the bag is made of crocodile leather. Discuss!
For more crazy designer finds, check out Chanel's hulu bag, the protective eyewear trend, and this $7,000 cake bag.