The FLOTUS — First Lady of the United Status — job may be up for grabs today, but the first lady of hip hop, Beyonce, isn't losing her title any time soon. Her credentials include wife of Jay-Z, mother of Blue Ivy and BFF to Michelle and Barack, and when she's not rocking her man's team logo or wearing an Obama tee, she's decked to the nines — like in this black and grey boucle knit sweater and Jennifer Zeuner gold necklace (above).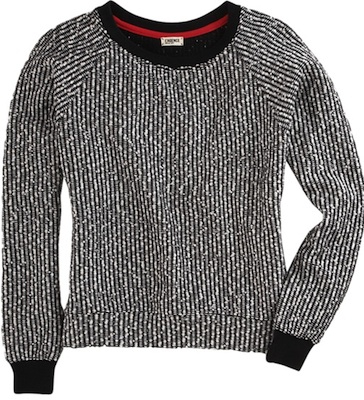 This L'Agence Ribbon Boucle Knit Sweater ($200) seemed to give off a metallic glow in the paparazzi camera lights, emphasizing her star power. No longer reserved for sweaty gym sessions, cool sweater-sweatshirts are all the rage this fall — especially in graphic prints and patterns like this.

Beyonce accessorized her look with Jennifer Zeuner Raquel Horizontal Eye Necklace ($198) and gold hoop earrings.
[Photo Credit: Splash News]
Shop more celebrity style such as Sarah Jessica Parker's fishnet jeans, Rihanna's favorite pants and Whitney Port's on-trend dress.