Meghan Markle's style tour continues, this week's stop is the Christmas Day church services she attended with the rest of the royal brood–in our opinion, looking chic AF. Meghan and her stylist Jessica Mulroney chose a belted camel coat, over-the-knee boots, Chloe bag and traditional ornate hat for the service.
Crowds waited for hours for a glimpse of the future princess at the Church of St. Mary Magdalene for the yearly Christmas service. Thankfully, Meghan did not disappoint–not only did she dutifully waive to fans and show immense grace under pressure (so many royal family members AND fans!), but she also chose a traditional yet fashion-forward look for the day. We love it!
Arm-in-arm with her groom to be, Meghan also appeared in tandem with the other royal couple Prince William and Kate Middleton (have you seen the two of them curtsying at the same time? It's a real treat).
Now, back to the outfit–here's everything you need to know about what Meghan wore on Christmas day (plus, links to buy everything, just in case you have an extra $10K laying around…):
Her coat:
The piece de resistance of her Christmas day outfit was this belted baby alpaca wool camel coat from Canadian brand Sentaler. (Now, you might be wondering at this point why California born-and-raised (and soon to be British!) Markle would wear *so many* Canadian brands. The answer goes back to that BFF and stylist we referenced earlier, Jessica Mulroney. Jessica's father-in-law happens to be the former Prime Minister of Canada. So, there you have it.
Mulroney and Markle (sounds like a buddy cop duo) chose this luxurious wide collar, fit and flare camel coat from the CA brand, which is still available (unlike everything else Markle wears). Actually, this particular coat is available for pre-order. Those hoping to get their hands on one will have to wait a little bit longer–the coat ships in March 2018, according to the website: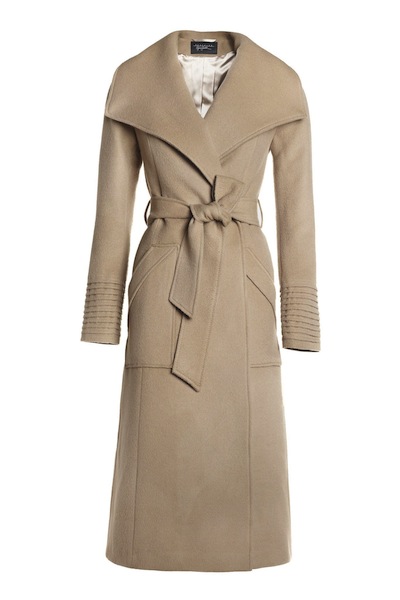 This Sentaler Long Wide Collar Wrap Coat in Camel ($1,295) is available for pre-order. The item ships March 2018.
Her boots: 
Meghan is a fan of Stuart Weitzman when it comes to her footwear. She's worn the American shoe designer before–but on Christmas she chose the bestselling Hiline boots to wear. The stretch-calf over-the-knee boots feature super-soft goatskin-leather and chunky block heels. Sometimes royal footwear can be a bit of a snooze-fest (think neutral kitten heel pumps–yawn!) so we love how fashion-forward this choice is. She's a total fashion girl! We want them *so badly*.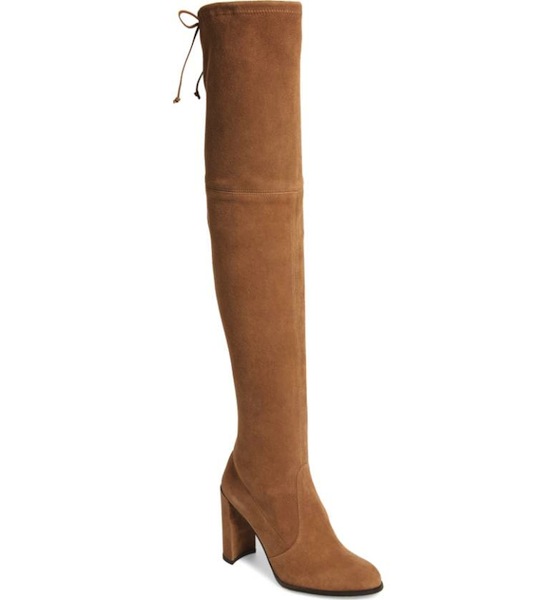 Stuart Weitzman Hiline Over the Knee Boot ($798)
Her bag:
Last but not lease is her GORGEOUS designer handbag from Chloé. The 'Pixie' bag is a light-brown suede and textured-leather mixed media bag in 'Caramel' color. Made in Italy, the circular bag is just enough room to hold Meghan's cell phone, keys and compact. We especially love the gold finishes– the studs and hammered top handles. Perfection!
Chloe Pixie suede and textured-leather shoulder bag ($1,490)
So, there you have it–Meghan's head-to-toe Christmas day look! Let us know in the comments section below–would YOU spend $10,000 on this outfit to meet the queen (if you had the scratch). We're dying to know!
READ MORE: Where To Buy Meghan Markle's White Coat From Her Engagement Announcement (Before It Sells Out!)