Now before all you Jennifer Lawrence diehards get yourselves worked up in a tizzy, give Naya Rivera some credit. Both actresses were recently spotted wearing the Stuart Weitzman Nudist Sandal ($398) and we have to admit, they both look so good. The classic ankle strap sandals have long been a favorite of A-listers, so it should come as no surprise that these ladies are fans. Now tell us: who wore them better, JLaw or Naya? Share your opinion in the comments.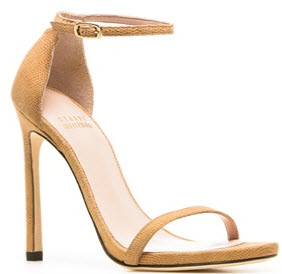 Stuart Weitzman Nudist Sandal ($398)
Don't forget to shop great celebrity style such as Jessica Alba's red leather skirt, Beyonce's Topshop skirt,  Kourtney Kardashian's flattering sweats and Alessandra Ambrosio's booties.
[Photo: Splash News]