We're all guilty of swooning over celebrity engagement ring photos and news — and 2012's been a good year for it. So far, we've seen a flurry of A-list celeb engagements – Britney Spears, Halle Berry, Drew Barrymore, and Jessica Biel. And of course, who could forget last year's fairy-tale weddings of Kate Middleton and Kim Kardashian? Both with epic rings to match.
If you've found yourself obsessing over one celebrity more than others, you probably identify with that high profile person — and their choice in rings and men. What celeb engagement rings you love actually says a lot about you — whether you're demure, and refined like Kate or flashy, and over-the-top like Kim. Take our quiz to determine which celebrity engagement profile suits you best.
A. You're A 'Kate'
If Kate's vintage, Sapphire ring is your favorite, you're a refined, classic bride who will favor vintage decor, like lace, over modern trends like confetti and photobooths.
Get the look: 
Kate's ring was a Windsor family heirloom – it belonged to Princess Diana, who wore it in the early 1980's. If you didn't inherit a family heirloom, start a new tradition with this Sapphire and Diamond Pave Diamond Ring in 18K White Gold ($2,300). 
B. You're A 'Jessica'
If you most identify with Jessica's over-sized, vintage rock, you're a lucky lady. Your groom adores you — and will do anything to make you happy (like propose on a mountaintop during Christmas). Jessica has been extremely discreet with her 6-carat, vintage-style ring – and so should you. Being a flashy bride is overrated.
Get the look:
Get the look: Jessica's ring has a blackened platinum scrollwork setting, which makes it look vintage. This Antique Princess Cut Diamond Engagement Ring ($10920) has a similar antique feel.
C. You're A 'Kim'
If you want Kim Kardiashian's over-the-top, 20-carat ring, this may be a sign of trouble ahead. Your expectations for the wedding and budget may be insatiable, and reveal that you're putting too much of an emphasis on the material aspects of the wedding — rather than the marriage itself.
Get the look: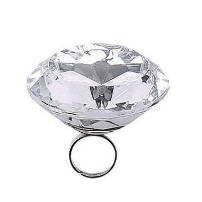 You might as well get the blow-pop version, because honey, unless you're marrying an NBA player, you won't be getting a 20-carat ring anytime soon. Sorry!
D. You're A 'Halle'
If its Halle Berry's gold, emerald stunner you like best, you're a unique bride (maybe this is your second wedding?) who will be willing to take risks for the big day. Like getting married barefoot on a beach in Bali, or going to City Hall on a whim. Halle had weathered 2 nasty break-ups before secretly getting engaged to Olivier Martinez. Talk about being a hopeless romantic.
Get the look: 
Her yellow gold and emerald ring was designed by Parisien jeweler Robert Mazlo. This Emerald and Diamond Ring in 14K Gold ($1750) actually has almost half as many carats as her's.
E. You're An 'Annie'
If Anne Hathaway's custom, Kwiat diamond speaks to you, you have your feet-on-the-ground, but are also free-spirited (a unique combination). Anne's fiance Adam Shulman reportedly designed the 6-carat ring himself, which shows loyalty and devotion. You value both highly in your mate. You also have impeccable style! Annie compliments her Rachel Zoe-styled wardrobe with the 6-carat platinum band setting diamond.
Get the look: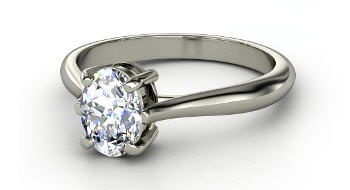 This lovely Oval Solitaire Ring ($6013) bears a striking resemblance to Anne's – but is only a tiny fraction of the price!
F. You're A 'Britney'
If Britney's tiara-motif diamond is your pick, you're a girly-girl who is probably planning a princess wedding (let me guess, pink or lavender is your wedding color?). You also believe in second chances; after 2 failed marriages and that whole head-shaving thing, Britney made 2011 one of her best year's ever: in December, her agent and longtime boyfriend Jason Trawick popped the question — on his birthday! Good things come to those who wait.
Get the look: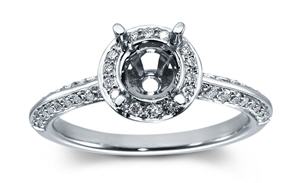 Britney's band is comprised of many little diamonds set in platinum, and the main stone is a 3 carat tiara-motif diamond – set in white diamonds and platinum to create a crown effect. This Halo Micropave Diamond Engagement Ring ($2298) has a diamond eternity band, just like Britney's.
G. You're A 'Drew'
Drew: radiant, sparkling, statement-making
If Drew's radiant, sparkling diamond is your fav, you love being in the spotlight and found a partner who will let you shine. Reformed bad girl Drew Barrymore found her life's partner in low-key art dealer Will Kopelman — the true definition of ying and yang. Kopelman suprised Drew with a colorless, 4 carat, radiant-cut diamond set on a diamond-covered band earlier this year.
Get the look: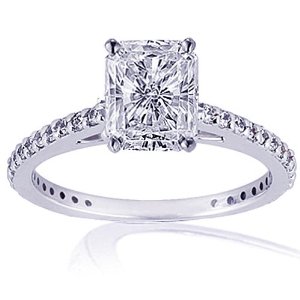 Kopelman sourced Drew's ring from Graff Diamonds. The stone in this  Radiant Cut Diamond Engagement Ring ($2399) is very evocative of Drew's giant gem.
Want to browse even more celeb-worthy baubles? Shop our guides to the best wedding costume jewelry, bridal hair accessories, and wedding bands!