Hard to wear? Yes. Uncomfortable? Probably. Too risky for 90% of women? Yup. So with that being said, we must ask again, who the hell is buying all the leather overalls?!
Now of course, street style stars and supermodels can pull them off, but the rest of us? Not so much. Yet when we did a search to try to find a pair–for research purposes, of course–they were all sold out. Literally, leather overalls at 4 different retailers are completely gone.
There are only 2 logical conclusions. Either designers like Phillip Lim only made a few because they knew customers were gonna be like WTF and not buy them. Or, women flocked to them because overalls are totally having a moment as is leather, so how could you wrong with one piece that embodies both?
We're still not entirely sold on the idea of a leather all-in-one, but if you are these NastyGal Push It Overalls just came back in stock in a size large so you better scoop them up stat.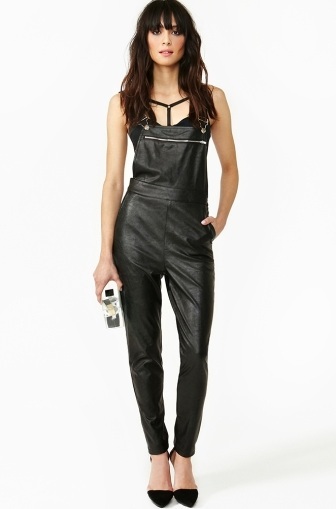 Push It Overalls ($98)
Want more trends? Shop dual purpose jewelry, PVC flats and surf-inspired fashion.