Working in this field, I see many wonderful products every day. Don't get me wrong–it's amazing–but it can have a bit of a numbing effect and sometimes it's like, "Ok, another pair of pretty shoes." But every once in a while I come across something that really takes my breath away, something that makes me want to stop whatever I'm doing and buy it immediately. Today, it was this Dana Rebecca Designs Initial Ring.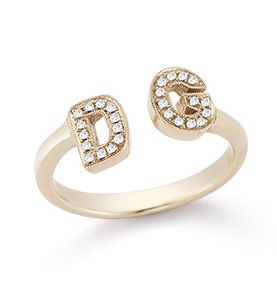 Dana Rebecca Designs Initial Ring ($660)
Obviously the ring is gorgeous, but as a teenager my most treasured piece of jewelry was my name ring. After having a baby, my fingers never quite shrunk down to their old size so I can't wear it anymore, but this is like the grown-up version. I need this ring in my life! Now, who can spare $660 to make this happen??
Be sure to check out the new ear crawlers trend, our editors favorite sneakers and Jessica Alba's plaid shirt.
[Photo: Dana Rebecca Designs]