When we saw both Kim Kardashian and Victoria's Secret stunner Lily Aldridge rocking the same Givenchy printed jersey maxi dress ($2,105), we couldn't help but wonder, "Do they have the same stylist?" If you'll notice, Kim topped hers with a leather moto jacket–so did Lily. Lily wore hers with open toe booties–so did Kim.
Despite the styling similarities, the dress looks pretty unique on each woman. So we have to ask, who wore it better–Kim Kardashian or Lily Aldridge? We prefer Lily's accessories–namely, that cool black hat–but what about you? Share your pick in the comments.
Think you can wear it better–or at least, just as well–as Kim and Lily? Score their exact dress below.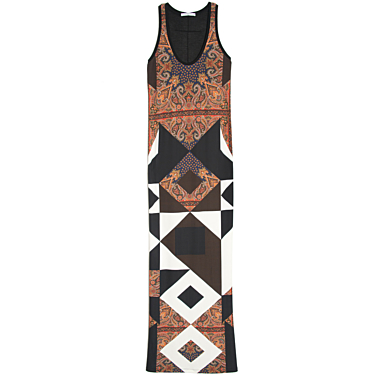 Givenchy Multi Print Maxi Dress ($2,105)
For more can't-miss celeb style, score Katie Holmes' jeans, Nicole Richie's sunglasses and Hilary Duff's sweater.