Last year, we reported on this record-setting 1.8 mile wedding train in Italy, which literally took a village to carry. Inspiring, right? WRONG. That Italian wedding train is old news, because the record has been beaten, a mere 6 months later.
On Tuesday, the record was claimed by this epic, 1.85 mile wedding train in Romania, which reportedly took 10 workers 100 days to manufacture. Why, exactly? For Guinness World Record Book glory, of course!
Here it is in its not-quite-full splendor – to see the whole shebang, you'd have to capture it via aerial photography.
According to the Today show blog, it took "15,420 feet of taffeta, 18.04 feet of Chantilly lace, 147.64 feet of lining, 1,857 sewing needles and 150 spool threads" to make the dress and train!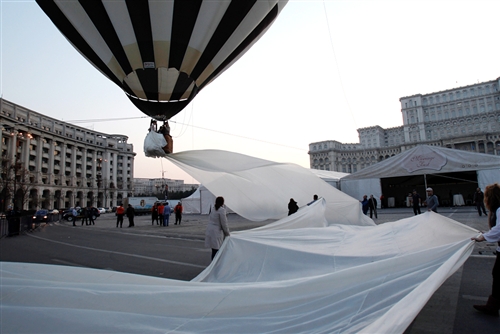 Looking for a gown that's a little more reasonable? Shop our guides to the best simple wedding dresses, strapless wedding dresses, and wedding dresses with sleeves.