From left: the Missoni Doll and the light's reflection on the carpet
BREAKING UPDATE. 9/13/11:
Missoni for Target has launched, but the site is down. Here is the secret way to get Missoni for Target. Stuff you want sold out? Tons of Missoni for Target is already on eBay.
Last night I stopped by Missoni for Target's private shopping event in Bryant Park—and it was an absolute madhouse.
From Joy Bryant and Camilla Belle sightings to empty clothing racks everywhere, the event had an unparalleled energy. Unfortunately getting there "fashionably late" meant nearly everything was gone (including even the Missoni Bike), and I was left salivating about the items I saw in other shoppers' bags. Number one and two on my wish list (especially after seeing the impeccable quality in person) are the flats and the martini shaker:
If I learned anything from yesterday's event, it was that you've got to get there early.  And if you're lucky enough to live in NYC, you can—tonight! Visit the Missoni for Target Pop-Up Shop tonight as part of Fashion's Night Out, and get Missoni for Target before it hits stores on September 13th. Or, next week, be prepared to get to your nearest Target store early, wait in line, but know that it's extremely worth it: this is by far the best collab in Target's history.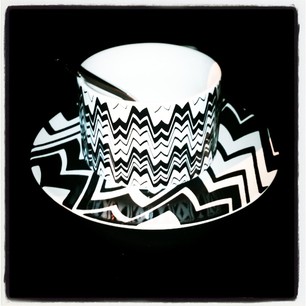 An Instagram I snapped of the Missoni for Target dishware
For more coverage on Missoni for Target, be sure to sign up for exclusive updates through our newsletter.