Tear yourself away from Words With Friends long enough to download an app that can help make wedding planning easier–or just a lot more fun. From turning your iPhone into a scanner to using your Blackberry to write your wedding vows, when it comes to your wedding, there really is an app for that.
1. iWedding Deluxe ($9.99)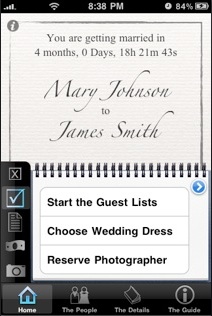 This app does everything except carry your train on your wedding day. You can import contacts from your phone to add to the guest list and record details down to if they have RSVP'ed or are bringing a guest. To-do lists, a budget planner and a daily reminder of the big date integrate every detail you need.
2. Wedding Budget and Expense (Free)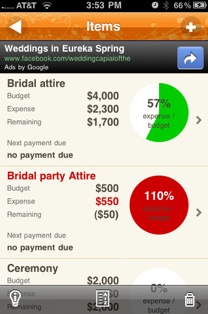 Although you may not be an accountant, this app lets you budget like one. Enter in your overall budget and break it down based on what you would like to spend. Flip your phone to the side to view visual representations about how much you have left (hopefully not how much you've gone over). You can add in due dates for bills as well to help keep you on track as you juggle details.
3. Wedding Checklist ($3.99)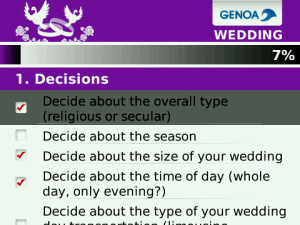 Ah, the joys of clicking things off your to-do list. The Wedding Checklist app features sample typical decisions you face–like who's in the wedding party, but you can add your own, such as if your Great-Aunt twice removed is going to be invited. A bar in the background tracks your progress–toast to yourself when you are 100% done!
4. Wedding Countdown (Free)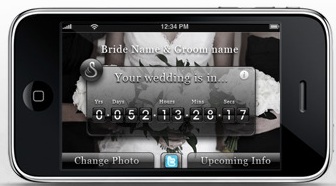 "How long away is my wedding day? Let me open my app." This app keeps it classy with a variety of customizable backgrounds and helps you track the big day down to the very second you say I do.
5. Wedding Vows ($2.99)
If you didn't exactly get an "A" in composition, this Blackberry app can help by giving you a good start on writing your own vows. Just don't forget to add in your fiance's name where there's a blank.
6. WeddingScan ($0.99)
There's few times you feel so powerful as when you hold the registry scanning gun. Thanks to this app, you now have the power in your iPhone. After you create a WeddingScan registry, you can go to ANY store and register for any item by scanning it with your phone. When someone buys it for you, you can turn on your preferences to receive a notification.
Stick to your wedding app budget by using our shopping guides for inexpensive wedding dresses, cheap wedding invitations, or inexpensive wedding shoes.